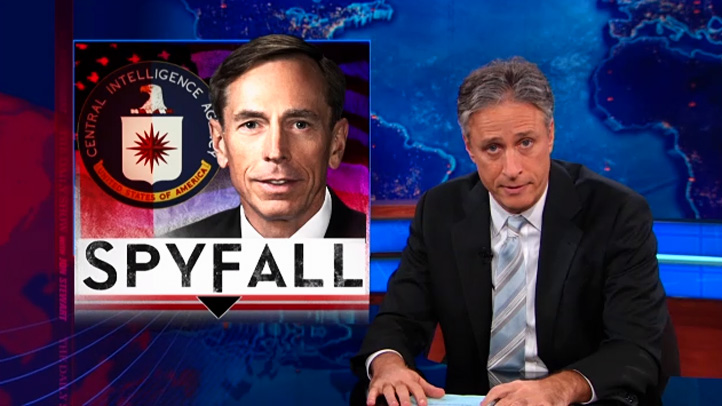 "Daily Show" host Jon Stewart waded into the scandal involving former CIA Director David Petraeus on Monday's episode, noting with disappointment that the affair lacked the mystery and intrigue normally associated with security intelligence.
"Really? Email? All they had to do to nab America's spymaster general was log onto his email?" Stewart said.
NBC News has reported that the FBI discovered emails indicative of an extramarital affair between Petraeus and his biographer while investigating a possible case of cyber harassment involving another woman.
Petraeus' biographer, Paula Broadwell, made an appearance on Stewart's show in January.
After sifting through clips from the Broadwell interview, Stewart declared himself to be "the worst journalist in the world," for failing to catch on to the "innuendo"- laced interview.
"For God's sake, the title of her book was 'All In,'" Stewart bemoaned. "The thing never crossed my f---ing mind!"
Stewart also touched on the conspiracy theories swirling around the scandal and the timeline of events that ultimately led to Petraeus' downfall, leading him to surmise: "It's not 'Homeland,' it's 'Melrose Place.'"
To see Stewart's take on the Petraeus affair, check out the clip below, courtesy of Comedy Central: