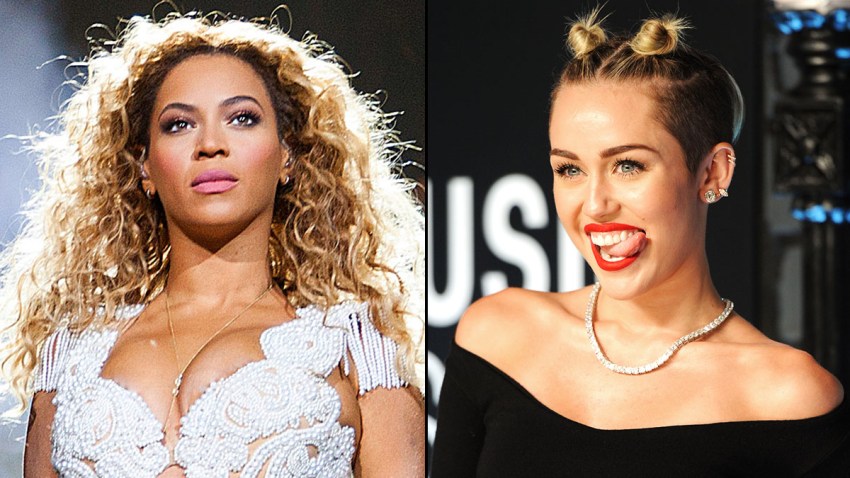 Only one day after Beyonce was named Bing's most searched person of 2013, Miley Cyrus has topped the charts at Yahoo.
21-year-old Cyrus went from Disney teen idol to full-fledged pop music star this year and in the process became the most searched term overall on Yahoo. And if you think Cyrus' tongue-wagging and twerking on the MTV Video Music Awards had anything to do with it, you'd be correct.
The most popular question on Yahoo starting with "What" happened to be "What is twerking?" reports NBC News.
With one crown apiece, camp Beyonce and camp Cyrus will have to wait until Google - the country's most popular search engine according to comScore - releases its most-searched findings before the ultimate winner of 2013 can be named.
Holding firm at the number two spot on both Yahoo and Bing was reality TV star Kim Kardashian. And though Kardashian appeared to be a constant online presence due to her divorce from Kris Humphries, the birth of her daughter North with Kanye West and subsequent engagement to the rapper, her popularity wasn't enough to compete with the antics of Cyrus. In Yahoo's third spot was Sports Illustrated swimsuit cover model Kate Upton.
Surprisingly, Bing users interest in Cyrus was only enough to place the "Wrecking Ball" singer in the ninth spot on their list. Bing, the second most used search engine in the U.S. ranked Rihanna to the third tier behind Beyonce and Kardashian, followed by Taylor Swift, Madonna, Justin Bieber, Nicki Minaj and Amanda Bynes. Rounding out the top ten was Barack Obama.
For all his reported bad boy antics, Bieber only managed to scrape into the Yahoo top ten in the final birth, behind even his ex-girlfriend Selena Gomez who occupies fifth position.
But it wasn't only pop stars and reality TV sensations that held America's interest in 2013. Obamacare was Yahoo's No. 6 most-searched term, as well as the second most-searched news story, trailing the Jodi Arias trial.
Will Beyonce's "Mrs Carter World Show" Tour, Destiny's Child reunion at the Super Bowl XLVII Halftime Show, HBO documentary, Cuba trip with husband Jay Z and ads for L'Oreal and H&M generate enough interest to propel the "Grown Woman" singer to become the most searched celebrity in 2013? Or will Cyrus' ever-present tongue and risque stage costumes be enough to make her No. 1? And don't rule out Kardashian, who, with enough clicks could rise above her current second placings to ultimately claim the crown.
Only time, and Google, will tell.