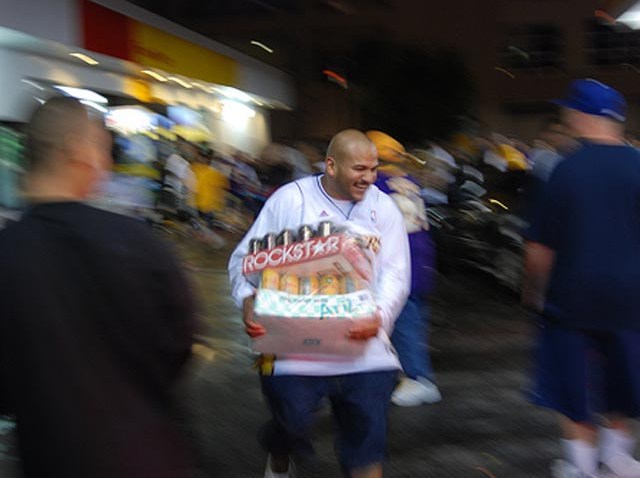 Police announced Wednesday another arrest in the June 14 melee that followed the Lakers championship game.
Detectives say 24-year-old Michael Rivas of Hawaiian Gardens was identified thanks to surveillance images, Flickr and YouTube.
"In the pictures, Mr. Rivas is laughing as he loads cases of soft drinks into a car," said Lt. Paul Vernon. "He wasn't laughing when we showed up at his job to arrest him last Friday."
He was charged with burglary, with a special circumstance for looting. His bail was set at $20,000.
"It's nearly impossible to stay anonymous in this age of cell phones, video, and social websites -- and that's a good thing, if it holds people more accountable for their behavior," Vernon said.
Rivas is the 20th melee-related arrest, police said. Conservative estimates total the melee damage at $300,000 in broken windows, damaged cars and stolen property, said Deputy Chief Sergio Diaz.
There is still a $10,000 reward for any information that leads to an arrest and conviction for melee crimes, said City Councilmember Jan Perry.
"There are many more pictures of people acting irresponsibly and illegally. Please help these officers find them so we can all enjoy our many entertainment outlets downtown without the fear of being hurt," Perry said.
Anyone with information can call police at 213-972-1228, or 1-877-LAPD-24-7. Tipsters may remain anonymous.