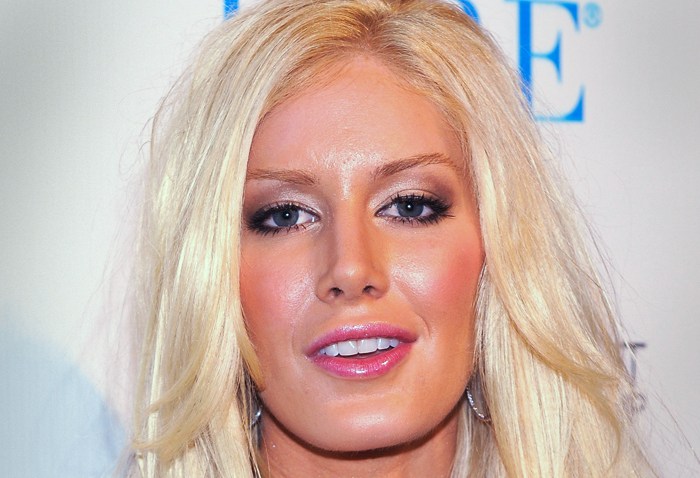 Heidi Montag has more plastic surgery ahead of her, according to People.

"The Hills" star, who went under the knife for 10 procedures last year, told the mag that she still has things to work on.

"I love my boobs but I still want to improve," she said. "I didn't get them as big as I originally wanted."

However, Heidi said she didn't have anything scheduled at the moment, with more work to come "eventually."

"For maintenance," she said.

The star added that she's pleased with her recent work, which made headlines when she debuted her new look on a People cover.

"[It was] the best decision I've ever made," Heidi said. "My favorite part, I think one of them is my chin. I think that's what I was so excited about."

As previously reported on AccessHollywood.com, on November 20, 2009, Heidi went under the knife for 10 procedures in one day, which included a mini brow lift, Botox in the forehead, nose job revision, fat injections in cheeks and lips, chin reduction, neck liposuction, ears pinned back, breast augmentation revision, liposuction on her waist and thighs and a buttocks augmentation.

And now, Heidi may be ready to show off more of herself than ever before – earlier this week, a source told Access that Heidi is in talks to show off her new look in a second Playboy pictorial.


Related Content from AccessHollywood.com:
VIEW THE PHOTOS: Heidi Montag & Spencer Pratt
PLAY IT NOW: Joan Rivers: 'I Feel Very Sorry' For Heidi Montag
PLAY IT NOW: What Does Heidi Montag's Cosmetic Surgery Have To Do Britney Spears?
MORE ACCESS ON THESE TOPICS: Heidi Montag - The Hills - TV - Reality TV - Playboy
Copyright NBCAH - Access Hollywood