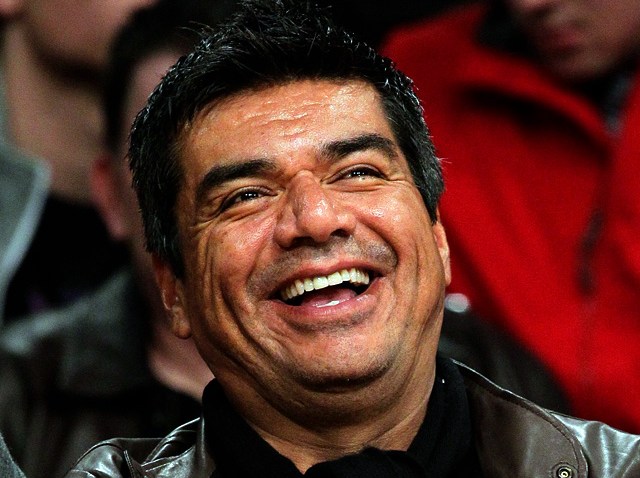 Sandra Bullock's longtime friend, George Lopez, told Access Hollywood that he's overjoyed with the actress' adoption news and excited to be a part her three-and-half-month old son's life.

"I'm happy to be an uncle," George told Access at the Third Annual George Lopez Celebrity Golf Classic 2010 in Toluca Lake, Calif., on Monday.

"We're very excited and she's happy and we're happy that she's happy," George, who was accompanied by wife Ann Lopez, continued. "And we love her."

As previously reported on AccessHollywood.com, the 40-year-old actress shocked the world last week when she announced that she had adopted a three-and-half-month old son, Louis, in January and plans on raising him as a single parent.

The actress hinted at her plans of adopting during an appearance on "The Ellen DeGeneres Show" in November, when she was asked if her Oscar-winning role in "The Blind Side" had caused her to consider the process.

"I've always felt like just because a child didn't come from inside your body doesn't mean that it's not your child. It just arrived somewhere else," Sandra told Ellen in November – likely at a time when she was going through the adoption process, unbeknownst to the public.


Related Content from AccessHollywood.com:
VIEW THE PHOTOS: Sandra Bullock: America's Leading Rom-Com Queen
VIEW THE PHOTOS: Sandra Bullock Fashion Flashback
PLAY IT NOW: Quinton Aaron: Sandra Bullock's Going To Be A Great Mother
PLAY IT NOW: Sandra Bullock's Secret Adoption: How She Pulled It Off!

MORE ACCESS ON THESE TOPICS: Sandra Bullock - George Lopez - Adoption - Movies - TV

Copyright NBCAH - Access Hollywood