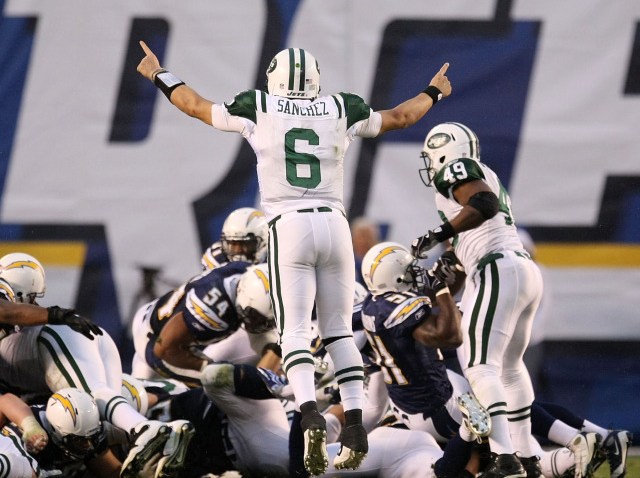 Admit it, you didn't think they could do it, did you? Deep down when you talked about the game and imagined the possible outcomes, not for one second did you actually allow yourself to believe that the Jets could roll out of San Diego with a victory and a place in the AFC Championship Game.
Your lack of faith offends everyone wearing green at this hour.
Making sense of this victory is an obscene idea at this point in time. How does one intellectually realize a defense that played as well as the Jets played on Sunday? How does one comprehend Shonn Greene's 53-yard touchdown run? How can one easily explain the balls of steel that it took for Rex Ryan to go for it on fourth down with a minute to play in the fourth quarter of a game that the Jets weren't supposed to win?
You can't do it and, right now, there's no reason to do it. The Jets are going to the AFC title game and they are doing it in spite of the fact that not one person who isn't a Jets diehard thinks they have any business being there.
Everyone laughed when Rex Ryan said that the Jets would meet Barack Obama. Doesn't seem so ridiculous now, does it? Ryan's defense and an offense led by a pair of rookies have made such a visit so close that you can taste it. There's no reason to be reasonable or measured at this point. Dive into the Jets and enjoy how good the water feels because this doesn't happen all the time. The bandwagon welcomes all comers and has room for millions. It is the Jets' hour and the whole city should be celebrating right now.
Josh Alper is a writer living in New York City and is a contributor to FanHouse.com and ProFootballTalk.com in addition to his duties for NBCNewYork.com.
Copyright FREEL - NBC Local Media