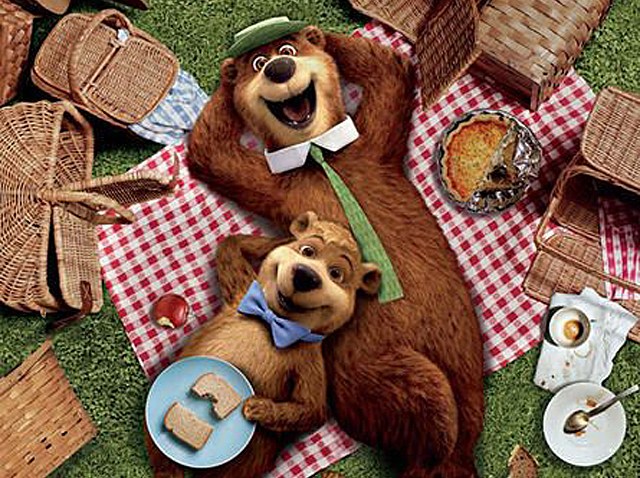 Hide your pic-a-nic baskets; Yogi Bear is back on the loose.
Warner Brothers' new feature film adaptation of the beloved Hanna-Barbera cartoon, a 3D mix of live-action and animation in the "Alvin and the Chipmunks" vein, features the vocal stylings of Dan Aykroyd as Yogi and Justin Timberlake as his bow-tied sidekick, Boo-Boo.
At the press day for the film, Aykroyd served up a bit of nostalgia when describing his childhood memories of the cartoon.
"I grew up on the edge of a national park," Aykroyd said, "and had to walk to school, two miles, there and back. That's when I used to watch Yogi Bear, in the afternoons after walking through this park [with] timber wolves, creeks, snow drifts, a bat highway. It was like those stories where your grand [parents] had to walk six miles through the snow. Well I did! The only joy was coming home at 4:30, as the light was fading in Quebec, Canada, and there was Yogi on TV."
Asked why he thought the cartoon characters have been so enduring, Aykroyd replied, "They were well written and well done. They had a lot of heart and a lot of sweetness. The original cartoons always had a little message at the end; helping friends or staying together. There was always that twist in the writing, some sort of moral or ethical lesson."
Discussing the new film adaption, Aykroyd heaped praise on his sidekick co-star, literally applauding one mention of Timberlake's turn in the "The Social Network" and saying, "It's Justin's chops as an actor and a comedian that pulls this off. The characterization is sweet and really dry. Boo Boo really is the Dr. Watson brains to [Yogi's] Sherlock."
"Yogi Bear" opens December 17.