Police in far north suburban Zion on Friday widened their investigation into a vicious beating of two teens that they're characterizing as senseless and sub-human. The development came after police were alerted to a video of the attack on YouTube which documented the beat down in its entirety.
"I do keep watching it," said Victor, a 15-year-old high school freshman from Zion, attacked May 12 in Shiloh Park by a pack of about 20 teenagers, one of whom stood by and videotaped the beat down rather than calling for help. "But at the same time, I feel like sad. I had to see my girl on the floor... guys and girls were on and off hitting her. Stomping on her."
Victor -- who didn't want to provide his last name out of fear of retribution -- said he was trying to leave the park with his girlfriend when they were taunted, surrounded and jumped. He said he provoked none of it.
"It happened so fast. All I remember is me saying, 'I don't want no problems.' The next thing I know... I got knocked out. Everything was blurry."
From start to finish, the beat down lasted 30 seconds. Victor said he may have gotten killed if police hadn't received an anonymous 911 call.
Two juveniles were arrested at the scene and two others were arrested a block away immediately after the attack. All face a charge of felony mob action and felony aggravated battery.
Police characterize the juveniles as the "key players" in the attack, but they say the Internet video makes it clear more kids were involved.
"I found it very disturbing that children of this age feel a need to videotape it and glamorize it rather than step in and prevent it," said Zion Police Deputy Chief Steve Dumyahn.
Victor suffered a body full of bruises from the beating and four stitches. His physical wounds are starting to heal, but not the psychological scars. "I can't sleep sometimes. I just remember what happened. I'm scared to go outside. What if this happens again?"
Police say this is the first law enforcement contact they've ever had with Victor, that as far as they can tell from their investigation, he's a good kid. They say something may have transpired earlier that day at school between his girlfriend and some of the kids who attacked them. Victor insists, however, he was minding his own business.
"It was unexpected. I was just walking with my girl trying to go home. Next thing I know I'm on the floor."
"If they would do this to me, I wonder what they would do to other people."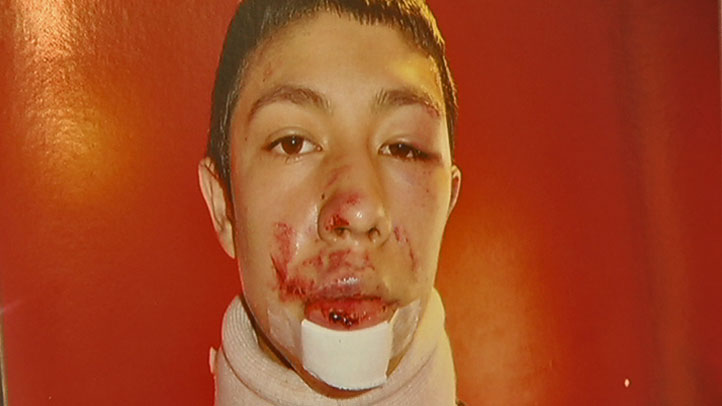 Victor, a 15-year-old freshman from Zion, said the May 12 attack in Shiloh Park was completely unprovoked.