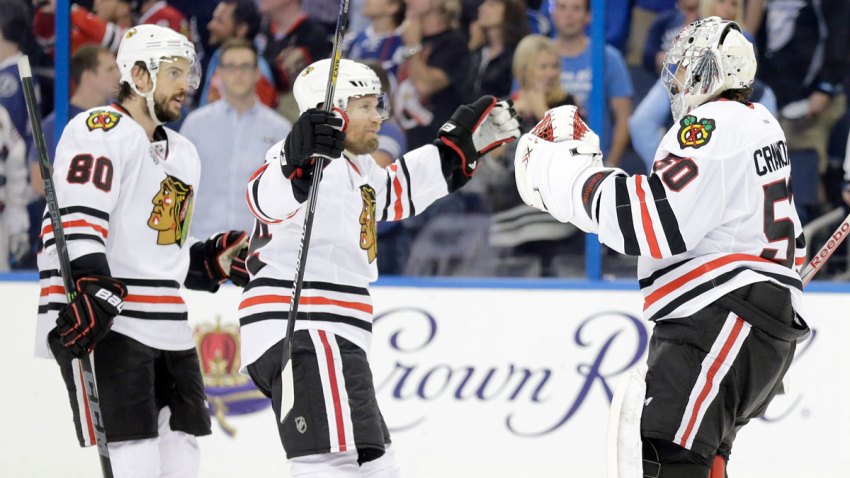 The last time that Chicago Blackhawks defenseman Kimmo Timonen was on the ice for a potential Stanley Cup clincher, he was on the wrong side of the sheet as Patrick Kane's overtime goal lifted the Blackhawks over Timonen's Flyers way back in 2010.
Now, Timonen is on the Blackhawks' side of the ice, and he is once again in a position where he could potentially grab his first championship ring. After all of the health struggles he's dealt with and the challenges he's faced, the defenseman isn't allowing himself to look ahead too far.
"Every hour you have to say to yourself, 'Stop it,'" he told the media after the Hawks' morning skate on Monday. "There's a game, and it's a big game, and we haven't won sh-- yet."
That mentality is prevalent throughout the Blackhawks' locker room as the team tries to clinch a championship on home ice for the first time in nearly 80 years. Even still, there is still an air of hope around the team that they can help Timonen to accomplish something that has eluded him throughout what has otherwise been a stellar NHL career.
"It's a tremendous opportunity for him," head coach Joel Quenneville said. "He's been in the situation on the other side. I commend him how he's handled a tough situation for us."
In his interviews leading into Game 6, Timonen has hinted strongly that he will retire at the end of the series, and after a year that has seen him nearly end his career early due to blood clots in his legs and have to struggle just to get ice time for a talented Blackhawks team, he's trying to savor every moment.
"I'm really trying to enjoy these last few days because let's be honest: It's five days left in my career," he said last week. "I'm living in a dream."