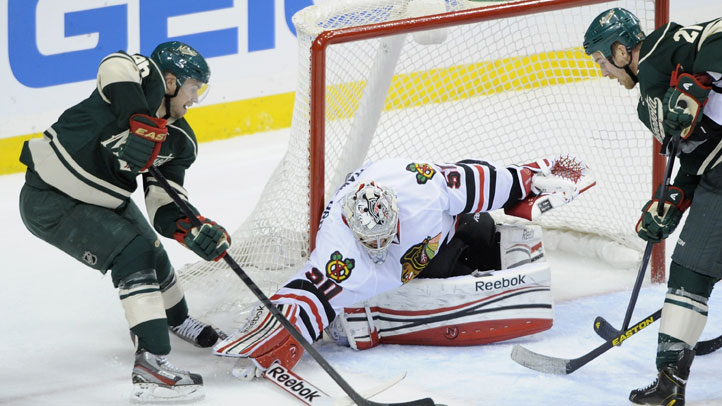 The Chicago Blackhawks and Minnesota Wild will do battle once again on Thursday night in Game 5 of their Western Conference Quarterfinals series. The Hawks, up 3-1 in the series, will look to close out the Wild after dominating Game 4 to the tune of a 3-0 shutout victory.
The game itself is going to once again provide an interesting contrast in style, with the Hawks' aggressive in all areas vs. the Wild's hit everyone wearing a red jersey style.
What is perhaps more intriguing about tonight's matchup, however, is just how starkly different the two teams' in net situations are heading into the game.
On the Blackhawks' side of the ice, Corey Crawford has been playing extremely well, despite the complaints of some that his overtime goal allowed in Game 3 of this series was on the "soft" side.
Coming into the series, there were plenty of folks who were questioning whether or not he would be able to carry the Hawks to a playoff series win, but as Greg Wyshynski reminded fans in his column on the Hawks' keeper, the players on the team did not take those concerns to heart at all.
To wit, here's what Patrick Sharp told the media about Crawford:
"I saw him dominate a Vancouver series two years ago. He was our best player – took us to seven games and overtime. We probably didn't deserve to be there the way we were playing as players.And I thought he was good last year.

"I feel like he's been strong ever since he joined the team. There are no question marks from our players looking back at our goaltending."
On the other side of the ice, Michael Russo of the Minneapolis Star-Tribune recounted the story in his blog today of the confusion that reigned during Wild practice over who would start tonight's Game 5:
"Slowly but surely, it became clearer that Harding was laboring. As Harding took shots, head coach Mike Yeo and goalie Bob Mason were talking and watching Harding. Suddenly, they turned and began watching (Niklas) Backstrom at the other end of the United Center's rink. He, too, looked to be having bigtime trouble pushing off.

"Yeo and Mason turned back and watched Harding. Harding skated over, began chatting with them. Finally, Yeo skated over to Backstrom and had a long conversation with him. The final decision? Harding will start tonight with (Darcy) Kuemper backing up."

So on one side of this matchup, you have a team brimming with confidence in their goaltender, who despite doubts going into the postseason, has played well. On the other, you have a goalie dilemma brought about by the fact that neither Backstrom nor Harding seems capable of staying healthy, but it will be Harding in net anyway despite his struggles.
Provided that is the case when the puck actually drops tonight, the Hawks' strategy is going to have to be a simple one: get as many shots on goal as possible in the early going. As was the case when Sharp scored an easy goal on Kuemper early in the second period on Tuesday, getting into the head of a goalie unsteady on his skates can be a huge asset to a team's chances, and by peppering Harding with shots, the Hawks could take the wind out of the Wild's sails early in this game.
If, however, Chicago decides that they'd rather play like they did in the late stages of the first period of Game 4, where Harding was laboring and the Hawks could only manage one shot on a power play, then Harding could settle in, and Hawks fans could be left wondering "what if" as the series shifts back to Minnesota.