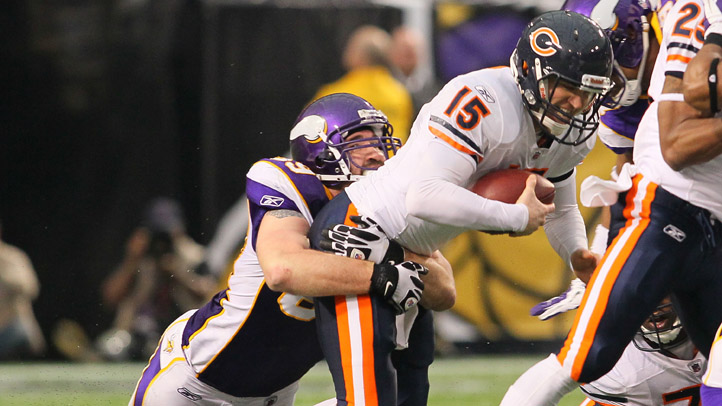 If the Bears offensive line needed a challenge, Jared Allen just handed it to them.
The veteran defensive end for the Vikings had 22 sacks last season, but he said 25 sacks in a season is a possibility.

When talking to NFL.com, Allen said he was bothered by the sacks that got away from him last season. Allen doesn't know if he'll be the guy to do it, but he does think a player will do it.

"I think 25 is possible," Allen said. "I thinks someone will eventually get it. Look at some of the athletes, the DeMarcus Ware's of the league and the matchups he creates as a 3-4 guy on a running back or something. I think it's possible. Then again, no one's ever had two 20-sack seasons in their career in the history of the NFL. So, someone's gotta do that first. Like I said, I believe 25 is a number that will get hit one year. But when, I don't know?"

There's no reason to believe it can't be Allen who does it. Playing against weaker lines like Chicago's, Green Bay's and Detroit's twice a season opens the door for him. He has terrorized the Bears, getting 13 sacks in eight games for 82 yards lost.

He'll get at least two more chances to pile up sacks against the Bears on Nov. 25 and Dec. 9. Will Chicago's offensive line help Allen to break the 22.5 sack record or even get to 25?
Copyright FREEL - NBC Local Media