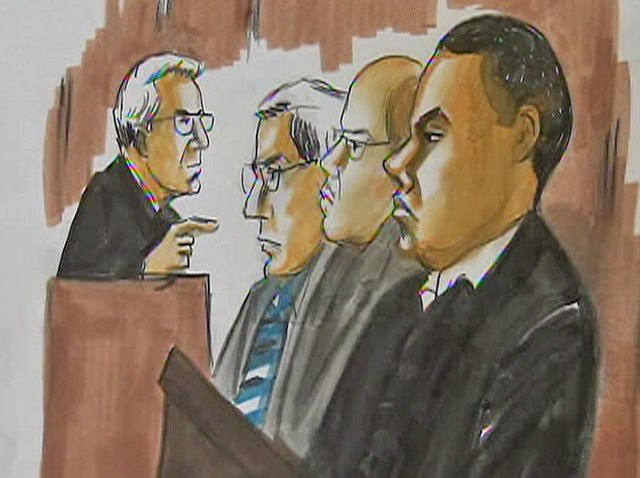 A Chicago police officer was charged Monday with lying to federal agents after being accused of taking payoffs from another officer to fix a case before the police department's disciplinary board.

Officer Victor Brown accepted the payments after suggesting to another officer that he could fix discipline cases and claimed to have contacts at the board, but denied taking the money when questioned by investigators, according to a 16-page FBI affidavit unsealed Monday.

Brown, 36, appeared briefly before U.S. Magistrate Judge Michael Mason, who set a $50,000 unsecured bond. He was charged with making false statements to a federal agent, which carries a maximum five years' prison sentence and $250,000 fine.

Defense attorney Chester Slaughter said Brown would plead not guilty but declined further comment. Brown also declined after the hearing, gesturing to his attorney when asked about his experience with the police department.

Brown, who joined the department in 1998, was arrested following a joint investigation by the FBI and the Chicago police's internal affairs division.

FBI agents were investigating reports that Brown had solicited payoffs to fix cases before the nine-member police board, which hears appeals of serious disciplinary cases.

There were no allegations that Brown ever paid any money to members of the board.

Brown allegedly solicited the payoff while he and another officer were assigned to the alternate response unit, which is special duty for individuals awaiting disciplinary procedures. Prosecutors declined to say whether Brown and the other officer were awaiting disciplinary hearings at the time.

The other officer cooperated with prosecutors, according to the affidavit.

In September 2008, Brown approached the cooperating witness and offered to fix his disciplinary problem for $10,000, the affidavit said.

The document said the two met a couple days later, and the witness handed Brown $500 and said, ``Check page four. I found a cool article on page four'' but didn't specify to what the witness was referring.

Brown continued to press the source for money through March 2009, with the total payment eventually reaching $4,500, prosecutors said.

Get Breaking SMS Alerts: Be the first to know when news breaks, and when weather changes dramatically.
News: Text CHIBREAKING to 622669
Weather: Text CHIWEATHER to 622669
Copyright AP - Associated Press