Watching the playoffs this past weekend was not easy for Bears fans. Earlier in the season, we assumed we would be watching our team play. It would be Jay Cutler and Matt Forte and Julius Peppers on the field. It wouldn't be the Lions and Falcons, both teams that the Bears had beat during the regular season.

The worst part is that it was so close to being different. How close? Two plays.

Chicago finished 8-8, and held tiebreakers over the Lions and Falcons. If they would have won just one more game, they would have earned a wildcard berth in the playoffs. If just one of two plays happened differently, the Bears would have been in the playoffs.

Let's take a closer look at those two plays:

Just a week removed from Jay Cutler's injury, the Bears played the Chiefs in Kansas City. Though it was a low-scoring game, it looked like the Bears were going into halftime with a 3-0 lead. Then Tyler Palko, Kansas City's back-up quarterback, launched a "Hail Mary" pass into the end zone.

Brian Urlacher and Chris Conte defended and did exactly what defenders are taught to do when among a gaggle of players in the end zone. They knocked the ball down, but into the waiting hands of Dexter McCluster. Without that touchdown, the Bears and Chiefs would have been tied. If overtime was needed to decide the game, the smart money would have been on the Bears and Robbie Gould.

The next week, the Bears went to Denver to face the Broncos. For much of the game, it seemed like Chicago figured out how to stop the Tebow Machine. Marion Barber, filling in for the injured Matt Forte, was on fire, running for 108 yards and a touchdown. However, his mistake ended up opening the door for the Broncos to get the ball back.

Chicago had the ball inside the two-minute warning. Barber was given the ball, and needed to stay in bounds to keep the clock ticking. He didn't. He ran out of bounds, the clock stopped, the Bears were forced to punt, which gave the Broncos exactly enough time to push the game into overtime, and then win the game.

Two plays. That's it. If one had turned out differently, you would have spent the weekend fretting over the Bears instead of enjoying the sunshine.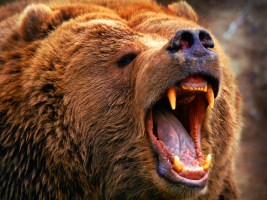 Check out Grizzly Detail: NBC Chicago's Bears blog features videos, photos, news, commentary and more. All the Grizzly Detail is right here.
Bear Down, Chicago.
Grizzly Detail on Twitter: @Grizzly_Detail

Copyright FREEL - NBC Local Media