With training camp around the corner, we're curious: how will the Blackhawks defense shake out? We do know who will be on the top pair and manning the most minutes. You can do that by looking at the salary chart these days, as Duncan Keith and Brent Seabrook are now far and away the highest paid blue liners on the team -- with Brian Campbell brunching at Big Pink in South Beach these days. Beyond that? We haven't a clue.
We can be relatively sure that Niklas Hjalmarsson will be patroling the second pairing. Though Hammer took a giant step back last year, he still provides the most potential of all that's left. If he returns to 2009 form, Hammer gives the Hawks a lockdown, assured d-man who can provide the platform for a second attacking d-man to give the Hawks a jump. I'm sure the Hawks would love to see Hjalmarsson assert himself more physically this year, becoming a cruncher in the mold of Seabrook. He has that style in him, but it's rarely been showcased, and was hidden behind a shriveling corpse afraid of contact last year. However, if that thing returns, for the first time in his career here Hammer faces defenders behind him who can replace him.
Who plays with him? Well, if the Hawks want to follow the model of the past three seasons, it'll be Nick Leddy. That's the dream of Stan Bowman and Coach Quenneville, anyway. Leddy, in the magical world of paper, provides the footspeed and vision to be that go-go gadget spiriting the Hawks up to the offensive end that Brian Campbell was. But Leddy has only shown the most limited glimpses of being that, and we can't count on that being the case until we see it.
We know Steve Montador will be in the lineup somewhere. Third pairing atom-smasher (though he's not really built for that) seems most likely. But if Leddy falters, Montador will end up there. And while he doesn't have the swiftness of Leddy, he has the vision and makes a really good first pass that could provide the same effect. He's also not afraid to shoot, which Leddy sometimes was. Or if Hammer continues to play as if being attacked by a bear, Montador could pair with Leddy as his centerfielder.
Which leaves Sean O'Donnell and Sami Lepisto fighting it out for one spot. Lepisto provides more versatility, being able to also fill in in the second puck mover role that Leddy and Montador are contenders for. He could do that on the third pairing as well. O'Donnell is the most known commodity, a solid road-grater on the bottom pairing who gets pelted with pucks on the penalty kill, and providing a little sandpaper. It'll depend on what goes on ahead of him to determine where and how much he plays.
What this breaks down to is Leddy has to have a good camp, though he'd have to completely vomit on ice to not be in the Opening Night lineup. From there, it will determine how everything else shakes out.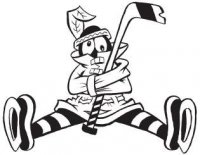 Sam Fels is the proprietor of The Committed Indian, an unofficial program for the Blackhawks. You may have seen him hocking the magazine outside the United Center at Gate 3. The program is also available for purchase online. Fels is a lifelong 'Hawks fan and he also writes for Second City Hockey .