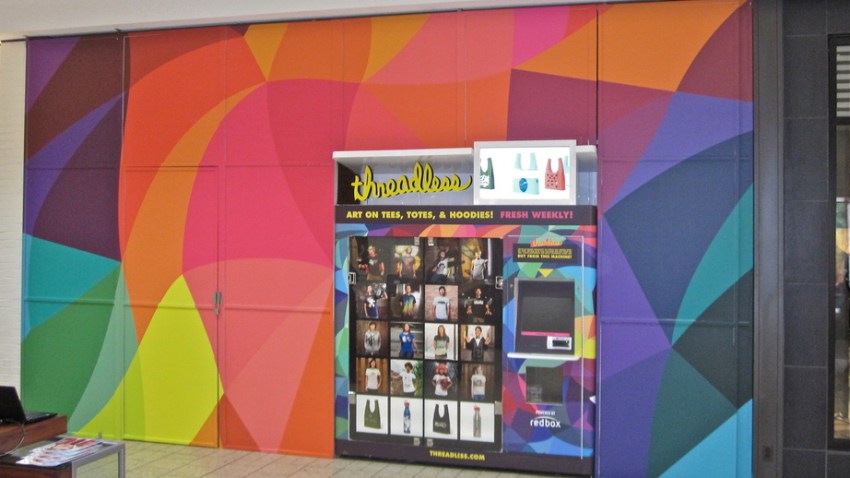 Threadless is teaming up with Coinstar, a subsidiary of the Oakbrook Terrace-based Redbox, to put its T-shirts in their handy-dandy vending machines for what both companies are calling a "test" to see if "grocery and mall locations would provide... compelling environments to deliver convenience and value to consumers," as Threadless' Head of Partnerships and Business Development Wilson Fong told Chicagoist.
Threadless wouldn't comment further on the initiative, but so far here's what we know: It's testing out four locations, like a Jewel at 2940 N. Ashland Ave., the Yorktown Mall, the Woodfield Mall, and the Dominick's at 2550 N. Clybourn Ave. Also, the kiosks take credit, debit, and prepaid cards, and sell T-shirts, hoodies, onesies in sizes from small to extra-large for both men and women. It's an interesting double-back after Threadless had built up a phenomenal following online and then went brick and mortar in 2007. What's next?
David Wolinsky is a freelance writer and a lifelong Chicagoan. In addition to currently serving as an interviewer-writer for Adult Swim he's also a columnist for EGM. He was the Chicago city editor for The Onion A.V. Club where he provided in-depth daily coverage of this city's bustling arts/entertainment scene for half a decade. When not playing video games for work he's thinking of dashing out to Chicago Diner, Pizano's, or Yummy Yummy. His first career aspirations were to be a game-show host.