The first official day of summer was certainly a doozy as severe storms brought intense lightning, heavy rain and high wind gusts.

Though no official tornadoes developed, several funnel clouds were reported throughout northeastern Illinois, including Naperville, Grayslake and Sugar Grove. Tornado sirens sounded throughout the western suburbs.

The storm left 271,407 Commonwealth Edison customers without power, said company spokesman Tony Hernandez. In Chicago, 62,085 customers were in the dark.

The northern suburbs were hit the hardest, where 151,783 customers lost power, Hernandez said. In the south suburbs, about 47,500 customers are without power, while the western suburbs have about 10,000 customers in the dark.

At O'Hare International Airport, about 340 flights were canceled by 9 p.m. as heavy rains pounded the facility. Several planes stood on the tarmac. Inside the terminal, gates were evacuated and travelers headed for the underground connecting tunnel between concourses B and C. [Watch Video]

On the city's south side, thousands of baseball fans were stuck outdoors as rain pummeled U.S. Cellular Field, which was hosting the BP Crosstown Cup. The game was delayed in the sixth inning at about 9 p.m., but groundskeepers weren't able to pull the tarps out onto the field because of the fierce winds.

On the rails, several Metra trains were delayed. Travelers should check MetraRail.com for updated information. The Chicago Transit Authority seemed to easily weather the storm, with no significant issues or delays reported.

Damage reports throughout the area included a countless number of trees down, including a large tree on Route 53 just north of Roosevelt Road. In Bolingbrook, the walls of aluminum structures were blown in. Several inches of standing water was reported in Marseilles.

A chance for rain and storms persists through the week. A reprieve is on the way Friday, according to the National Weather Service. But don't expect summer heat just yet. Temperatures hover around 70 through the weekend.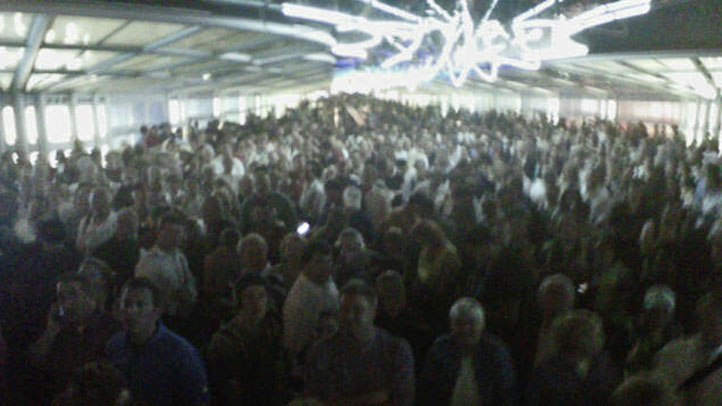 Gates at O'Hare were evacuated and travelers took cover in the underground walkway. (Photo: Nancy Patrickus)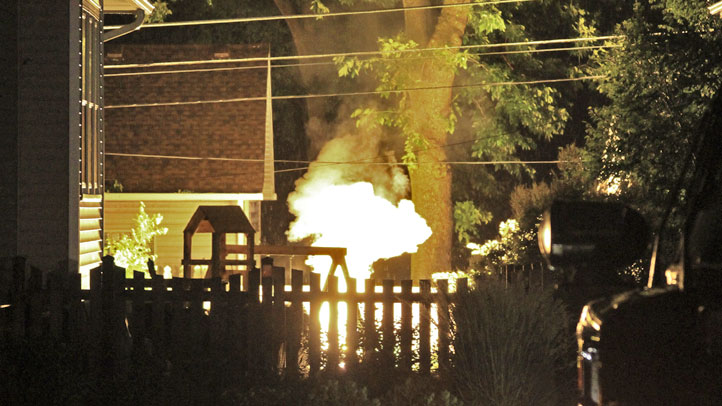 This fire started from an arching powerline that fell on Maple Street near Central Avenue in Mt. Prospect. (Photo: Maria Ruiz)
Grounds crew members fight high winds while trying to lay down the tarp during a rain delay in the sixth inning. (AP Photo/Charles Rex Arbogast)