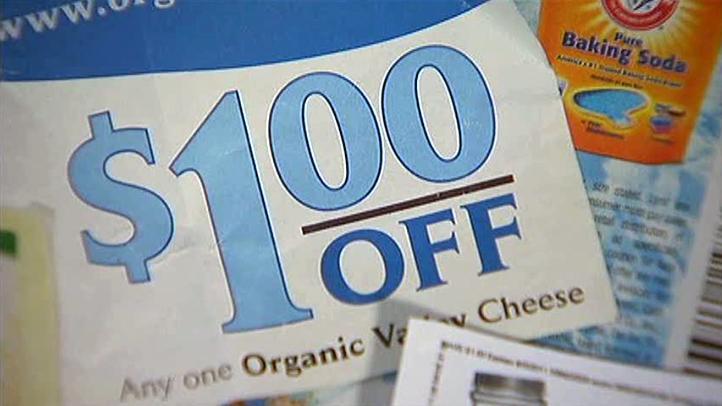 If you think clipping coupons isn't worth your time, think again. Just a few minutes spent each week clipping or clicking can lead to big savings, experts say.

The average coupon-using family saves about $1,000 a year, according to Deerfield-based NCH Marketing.

Those who don't coupon cite the effort and time needed, especially if they try to copy the dramatic results with all the savings stunts on TLC's Extreme Couponing.
But with the recession, times are changing and coupon use is skyrocketing.

"One out of five are using coupons in one form or another," said super-couponing expert Jill Cataldo from Huntley, Ill. Cataldo holds how-to couponing workshops in the area and wants people to see the benefits of just a little bit of work.
Already this year, consumers have saved more than $2 billion. That figure is on pace to double by year's end, according to statistics released by
NationalCouponMonth.com
.
On average, Cataldo cuts her grocery bill in half every week. On a recent, small shopping trip at
Jewel
, and with 20 minutes effort in clipping coupons, she saved 85 percent. Her bill went from $63.09 to $9.18.
"If you are not devoting a little time to this you are throwing money away," she said.
Her secret, she said, is simple: Couple high dollar coupons with items that are already on sale. On her Jewel shopping trip, the store had deodorant on sale: buy one get one free. Cataldo also had a buy one, get one free coupon. That means she took home four for free.
Couponing dates back to the late 1800s, with Coca Cola and Grapenuts cereal the first on record. Now there is $485 billion worth of coupons in circulation. Coupons clipped from the Sunday paper are still most popular, but the use of electronic coupons is surging.
"People not inclined to pick up a pair of scissors like the convenience of it," said Cataldo.
Most major groceries, like
Jewel
and
Dominick's,
also let you load coupons online right onto your preferred shopping card with the click of a mouse. When you swipe your card at checkout, the coupon values are automatically deducted.
Coupons.com
,
Smartsource.com
, and
Redplum.com
are some of Cataldo's favorite sites for printable online coupons. She likes
CouponNetwork.com
for payback promotions.
"I like the ones that say, 'Spend $20 dollars, get $5 back,'" she said.
For other merchandise and coupon codes, she likes
CouponCabin.com
and
Retailmenot
.
"Even if you do small savings, $20 a month it really adds up," said Cataldo. "It pays very well." And for time value, consider this" The average coupon is worth $1.57. At a minute's work per coupon to clip and save, that's $15.70 for 10 minutes worth of effort. That equates to $94.20 per hour.

How much does your job pay?