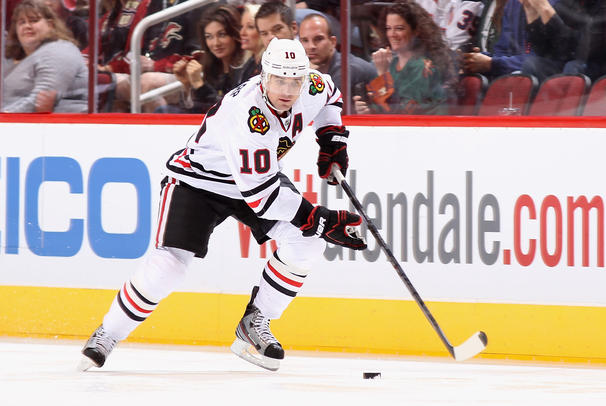 The Chicago Blackhawks have gotten a mixed bag of news on the injury front going into Wednesday's game with the Edmonton Oilers.
On the plus side of the ledger, Patrick Sharp will return to the lineup after missing the team's last five games with a shoulder injury he sustained against the Detroit Red Wings. In addition, goaltender Ray Emery, who himself missed two games last week with a lower body injury, will be in net for the Hawks in this game.
On the negative side, however, the team will be without center Dave Bolland, who left Monday's game against the Vancouver Canucks early with a groin injury. In his place will be rookie center Drew LeBlanc, who will be making his NHL debut with the Hawks tonight. In practice this afternoon, LeBlanc was centering a line featuring Sharp and winger Patrick Kane, so he at the very least will be in good company when he hits the ice against one of the league's fastest teams.
This is exactly the kind of thing that head coach Joel Quenneville needs to be doing with his team. With the top seed in the West locked up, Quenneville needs to be getting his guys some rest, mixed with a practical approach to making sure that oft-injured players like Sharp are sharp (no pun intended) for the playoff run the team hopes to go on.
By including LeBlanc in tonight's lineup, Quenneville is satisfying both his urge to keep his team prepared, as well as getting guys rest who could use it. Bolland's injury likely isn't serious, but it still doesn't make sense to rush him back just for the sake of getting a couple of meaningless standings points.