Why do I get the uneasy feeling I'll be writing too many posts about Kaner's Twitter feed, i.e. more than one? I just can't shake it.
Patrick Kane can't help being a story, like he was this training camp. First it was how good he looked after a summer of training. Then it was wrist surgery, and whether he'd get to camp at all. Then it was how much he'd play at camp. Finally, it was what position he would play. Coach Quenneville moved him to center for his preseason debut, either as a real tactical ploy or a cry for outside help from his GM. Either way, the experiment looked good for one night against an AHL roster. But hey, mighty oaks from little acorns and all that.
Wherever Kane plays this year, and it's still most likely to be mainly at wing, Hawks fans should expect, if not demand, a truly dominating season from Kane. Last season, Kane was one of the leading contenders for "Most Unable To Get Over Hangover" award, and that may have been sometimes literally. Lethargic, indifferent play at times, followed by Deadspin story after another, combined with a nagging injury led to a pretty non-dynamic Kaner. Sure, his numbers still looked good, but a breakdown of his stats saw a majority of his assists went from primary to secondary -- leading one to conclude that Kaner wasn't the playmaker he'd been in previous years. His goal total dropped as well, and there were numerous occasions when he passed up shots he should have taken.
But Kane's best stretch of hockey last year portends to a psycho killer year this year. It came after the first Deadspin story broke. Kane's always been best when he has something to prove, or a chip on his shoulder. His second year was about proving he was strong enough, his third that he could score himself. Now it's about proving responsibility and determination. We've only seen one game, but from that and quotes we know that the head is on straight.
And when it is, Kane shouldn't be anything less than an 85-point player. This is a generational talent here. There simply is no combination of hands and vision to be found anywhere. Kane is one of a few players who can tailor a game to himself. He looks ready to do so again this season. And if this thing at center actually works (though it won't), he may make Marian Hossa a top threat again. Should that happen, the rest of the league should duck.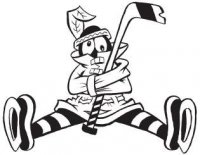 Sam Fels is the proprietor of The Committed Indian, an unofficial program for the Blackhawks. You may have seen him hocking the magazine outside the United Center at Gate 3. The program is also available for purchase online. Fels is a lifelong 'Hawks fan and he also writes for Second City Hockey .