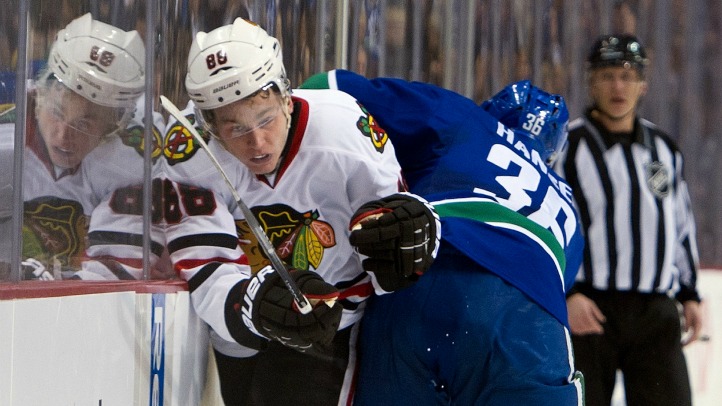 Right size, wrong shape: That's what you say off a long foul ball that just barely misses a home run. That's what the Hawks managed Tuesday night, because they were so close to a fantastic result and just didn't get it.
The story of Tuesday's game was the Hawks shutting down the Canucks for the final 40 minutes and doing it through a high-pressure game especially in the neutral zone. The Canucks kind of play into the Hawks' hands as they don't like to dump pucks in, instead preferring to try and use their speed to carry it in. But the Hawks' defense is built to stand up at the blue line and stop that from happening. Their forwards are at their back-checking best when they can pressure puck carriers as well, which the Hawks did without fail.
Sadly, it didn't end in two points, basically because the Sedin twins are unplayable four-on-four. Throw in a masterful performance from Canucks goalie Cory Schneider, who kept the game from getting out of hand, and the Hawks are left with a taste of battery acid in their mouths.
It's hard to pinpoint the Hawks' best player tonight. Viktor Stalberg created gashes in the Canucks skin all night with his speed. Duncan Keith and Niklas Hjalmarsson were valiant sentries on the blue line, though Keith did fall asleep for the OT winner.
Any loss to the Canucks hurts, but this performance repeated throughout the season will see the Hawks rise to the top of the pile on speed that is the Central Division. Especially because it came with a standout effort from Corey Crawford, who needs to build on this to recapture his season.
We can wail and moan about a missed call here or a post there or a bad bounce wherever. It didn't end where we wanted, but the process of getting to the end is exactly the one the Hawks want to take.