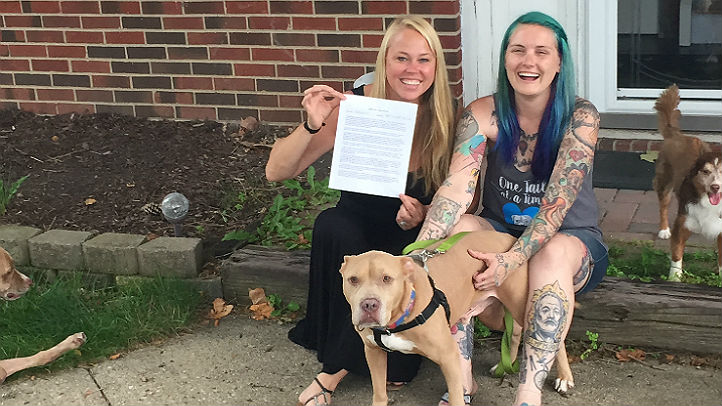 Rescue dog Roosevelt, a pup diagnosed with terminal bone cancer, became an official member of a family in the final days of his life.
Foster parents Sarah Lauch and Kelly Michael adopted Roosevelt, nicknamed Roo, shortly after the diagnosis.
"I am so happy Roo is ours forever," Michael said.
Lauch first found Roo at Chicago Animal Care and Control in April after the puppy was surrendered because of "issues urinating." Roo was rescued by One Tail at a Time and ended up as Michael's foster dog.
Despite the road blocks in Roo's health, the owners started a bucket list for him to make sure he lives the rest of his life to the fullest.
Last weekend, Roo visited Bangs Lake, where he discovered a love for swimming and jumping in the water. He also got two massages from the Chicago School of Canine Massage and ate tacos at Taco Bell and Big Star, where Lauch says he made many new friends. After all of that activity, Roo went for a walk along The 606.
Roo's owners plan to take him to the Indiana Dunes and on a lake cruise with Mercury Canine Cruises in early August.
Roo was recently diagnosed with small bladder stones and a urinary tract infection, making last week tough on the puppy and his owners. Fortunately, he is so happy in his forever home that it can be difficult to tell he's even sick, Lauch said.
"Kelly is doing an amazing job keeping him healthy and happy every single day," Lauch said. "It is tough for me to be away because he is always on my mind, but Kelly sends me updates all the time."
In spite of it all, Lauch said that Roo is doing great and they are really thankful for all of the support people show on social media and in person. Many have posted signs with their dogs showing support for Roo with the hashtag #LiveLikeRoo. People have also donated gift cards, ice cream and Portillo's and have sent his favorite food, treats and toys.
"I would like to thank everyone personally from the bottom of our hearts," Lauch said.