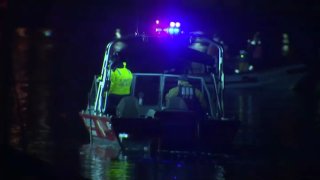 Authorities in suburban Will County say that a body has been found after officers tried to rescue a man who jumped into the Des Plaines River on Monday evening.
According to Joliet police, officers responded to the Jackson Street bridge at approximately 7:13 p.m. Officers were informed that a man had jumped into the river, and when they looked down from the bridge, they spotted the man.
While officers were attempting to rescue the man, he became submerged and did not resurface.
Divers from the Joliet and Plainfield fire departments, as well as a boat from the United States Coast Guard, responded to the scene, and at approximately 9:40 p.m., officers discovered a man's body in the water.
The Will County Coroner's Office was called to the scene, and efforts to identify the body are underway.
The incident remains under investigation.