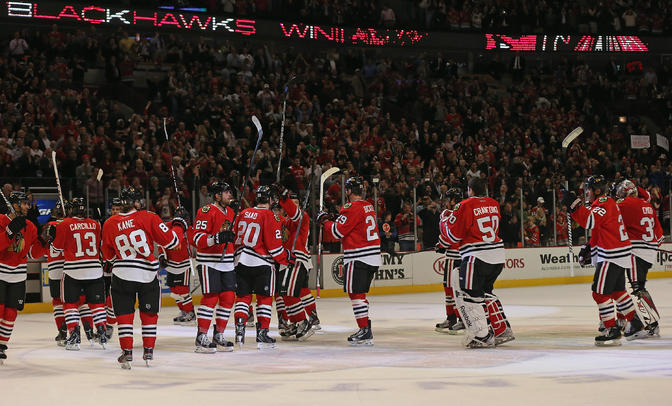 If a hockey pundit had suggested prior to the start of the 2013 NHL season that the Chicago Blackhawks would get off to a hot start, many fans would have nodded their heads in agreement. After all, this was a team returning with just about every key component and, with a shortened training camp and no preseason to speak of, the Hawks had an advantage over other teams with more fluid rosters.
Still, no one could have predicted this record start to the season. A points streak has allowed the Hawks to jump out to a huge lead in their division and to a respectable gap in the conference standings. While the Blackhawks have been surging, Madhouse Enforcer has remained relatively quiet.
Until now.
Starting today, we are beginning the process of transforming this blog into your go-to source for information about the Chicago Blackhawks. Whether it be an analysis of yet another Hawks win, highlighting an awesome goal by Jonathan Toews or weighing in on the latest hot-button issue surrounding the team's roster, Madhouse Enforcer will cover one the most storied franchises in the NHL.
That isn't to say we won't have our fair share of fun. We'll be scouring the web for videos, trinkets and other neat stuff that pertains to this team, and we'll share it all with you.
That said, this blog can't succeed without feedback from you, the readers. If you think something should be covered here, feel free to email me at jamesneveau@gmail.com. I'm also on Twitter @
jamesneveau
, so if your tips, compliments or criticisms fit within 140 characters, I'll read and react there as well.
Above all else, hockey is a beautiful game, and our ultimate goal is to expand your understanding of the sport and hopefully help you enjoy it even more. This Blackhawks team may be one of the best we'll see in our lifetimes, and we are excited to be your companion on this journey.