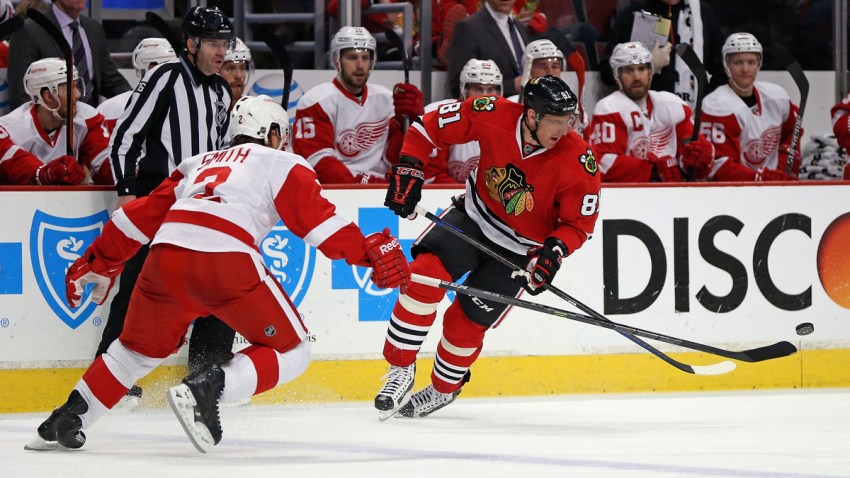 The Chicago Blackhawks have barely had three months off since winning their third Stanley Cup championship in six seasons, but even with the condensed offseason, the team looks to get their preseason off to a good start when they take on the Detroit Red Wings on Tuesday night.
The results of the game don't matter all that much, but the performances of certain players will be scrutinized as the team looks to put together an effective lineup for the coming season. With that in mind, we have five players for fans to keep an eye on Tuesday night as the Hawks take the ice against an opponent for a first time this season.
Kyle Baun
Baun, who signed as a collegiate free agent out of Colgate University last season, appeared in three games for the Blackhawks in the 2014-15 season, failing to register a point in those contests.
The Blackhawks have brought in a slew of collegiate free agents to compete for roster spots this season, and Baun is an intriguing one to keep an eye on. He was a solid goal scorer for Colgate during his college days, and if he can play a bottom six role for the Hawks this season, he could be a good, cheap contributor on a team with salary cap issues.
Marko Dano
Dano, who was a first round pick of the Blue Jackets in the 2013 NHL Entry Draft, will be looking to make a big statement for the Blackhawks as he plays on their top line with Jonathan Toews and Marian Hossa on Tuesday night.
At just 20 years old, it's hard to tell exactly what kind of prospect Dano will ultimately become, but the team is clearly taking a similar approach with him to the one they took with Brandon Saad: put him with two defensively responsible and elite offensive players in Toews and Hossa, and see if he can pull his weight and develop into an effective two-way forward.
Jan Hejda
The Blackhawks just signed Michal Rozsival to a one-year contract last week, but they could still be looking for another veteran player to fill out their defensive lineup this season. Hejda is one of those guys, and along with Lubomir Visnovsky he could push to make the roster on opening night as Rozsival continues to recover from the fractured ankle that ended his 2015 postseason.
Viktor Svedberg
The Blackhawks will likely be looking for a physical, strong player to take shifts on the blue line this season, and Svedberg could fit that bill. Standing at 6-foot-9 and weighing in at 235 pounds, there's no doubt that he could be a physical force on the edges, and he is also an offensive threat, with three goals and 11 assists for the IceHogs last season.
The odds are that Svedberg will begin the season in Rockford, but if he can make a strong statement in the preseason, he could be up in Chicago sooner rather than later.
Teuvo Teravainen
With the departures of Saad and Patrick Sharp, the Blackhawks will be looking for another player to step into a top-six role, and Teravainen certainly has the skillset to do the job. Joel Quenneville is going to look at him in a variety of roles for the team, including at center and at both wings, and he'll get his first crack at a left-wing job on Tuesday alongside Artem Anisimov and Patrick Kane.