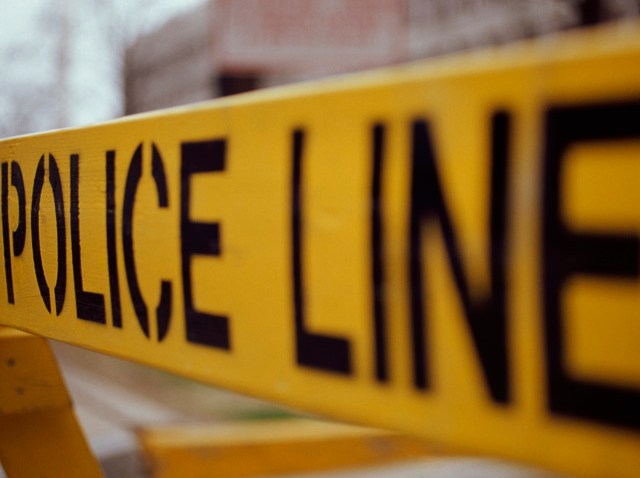 Two shooters gunned down three men in broad daylight outside a building on the South Side Tuesday afternoon in a shooting police is gang-related.

The attack happened at about 1 p.m. outside a large courtyard building at 7609-19 S. Coles Ave., a few blocks from Rainbow Beach State Park.

Two men -- a 24-year-old who suffered multiple gunshot wounds and a 30-year-old who suffered a single gunshot wound to the chest -- were pronounced dead on the scene, according to a police News Affairs report.

A third man, 29, suffered multiple gunshot wounds and was originally taken to Northwestern Memorial Hospital in critical condition, but later died of his injuries, the report said.

Two unknown people approached the men and shot at them before fleeing, according to the report, which indicates the incident is gang-related. No one is in custody for the shooting as of Tuesday evening.

Neighbors said they heard rapid gunfire. Linda White, 27, said two men approached the three men with guns drawn and started shooting.

"They just shot Joe, Pierre and Chris. Just like that, execution style," she said. She refused to give more details.

Authorities had not released the names of any of the victims as of 4 p.m. this afternoon, but family identified one of the victims as Joe Powell Jr., 29. There was no other information immediately available about the other two men, who authorities said were in their 20s.

Powell's family, including his mother and several siblings and other relatives, stood just 15 feet from their deceased loved one, whose body was was on the sidewalk under a white sheet in front of an entrance to a building as of mid-afternoon. Another body was nearby, while a third body that had been in the street had been removed from the scene.

"Let me see him! Let me see him!'' Powell's mother wailed as plain clothes detectives held her back.

Powell's family said they had no idea why he was targeted.

"We think he was just in the wrong place at the wrong time,'' said his uncle John Smith as he tried to console Powell's sister, Rashida, who was attempting to break past the police barrier.

Family members said Powell was a preparing for a trip to St. Louis for a family reunion next month, but declined to provide more details about him.

One woman, Jannelle Dillard, 25, who lives a block away, said she came running because her brother had been standing outside.

"I saw my brother and asked, 'Are you okay? Are you okay?' He was standing there in shock. Looking down I saw the three bodies. The two in front of the building had holes in their heads. I looked down at Joe Jr. and took off running to find his family.''

The manager of the building owned by Pangea Realty also saw the bodies outside.

"Thank god we have cameras. They'll find who did this,'' said the woman, who identified herself only as Franny. Police had already requested the footage from the cameras, she said.

Neighbors said the area is notorious for gang activity, and they feared that retaliation is coming.

By 3 p.m., as family members screamed, both bodies were put into black body bags and taken to the morgue.

The Cook County Medical Examiner's office had been notified of the deaths, but was not releasing the identities of the three men Tuesday evening pending family notification, a spokesman said.
Get Breaking SMS Alerts: Be the first to know when news breaks, and when weather changes dramatically.
News: Text CHIBREAKING to 622669
Weather: Text CHIWEATHER to 622669
Copyright CHIST - SunTimes