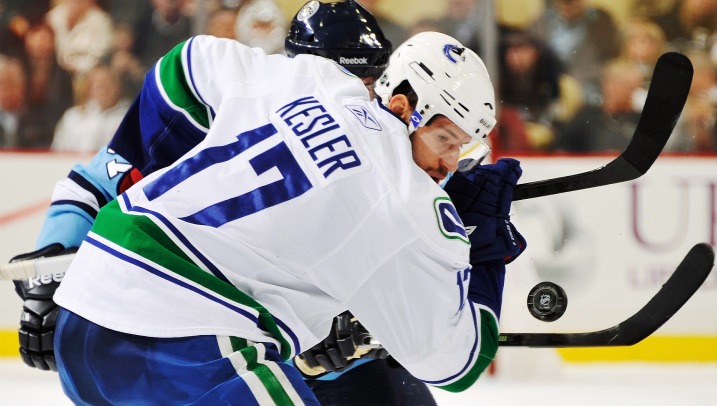 There's this myth that the over the past two seasons the Vancouver Canucks ave been felled by the Sedins disappearing act and Roberto Luongo becoming a Benny Hill sketch in net.
This is only partially true. Luongo certainly hasn't covered himself in glory these past couple years, but he's also had some very dominant games in these clashes as well. And the Sedins have had their moments as well. Last season, they combined for nine points in six games, which isn't on their dominant path of over two points per game combined, but it isn't exactly a complete no-show either. The year before that they had 11 points in six games, which isn't shabby if not glamorous.
Where the Canucks have really been struck is that no one else came to bail them out or fill in those numbers that the Sedins weren't putting up. And criminal No.1 has been Ryan Kesler. This is a player who's put up 66 goals the past two seasons, with 40 this year. But in last year's series, he didn't score once. The year before that he had two goals and three points. That's simply not good enough.
Kesler is probably the biggest reason why the Canucks are this good this year. He's cut out a lot of the useless nonsense that went along with his game. He wasn't jumping in scrums, yapping uncontrollably, picking fights over perceived injustices. This all resulted in a career year that will almost certainly end with a Selke Trophy for the league's best defensive forward. He's simply been a force. While the Sedins have put up their usual stellar numbers, the cartoonish ones the Canucks are putting up as a team are pretty much down to Kesler.
I'll admit it, Kesler is probably my favorite non-Hawks. I love his snarl, his determination, and all the different things he can do. No one wants it more on the Canucks than Kesler does, and perhaps that's been the problem. He squeezes the stick so tight, runs around everywhere he shouldn't be, and gets too trapped into the passion of it all that he can't play his game. He says it's different now, and the regular season proved that it was. But now? Well, we just don't know.
What we know is that Kesler won't have to deal with Keith and Seabrook, as they'll be dealing with the Twins of Sweden. He'll see a lot of Brian Campbell and the jittery Niklas Hjalmarsson. His rabid forechecking could make Hammer's life a nightmare. Kesler will either draw the checking assignment on Toews or whoever is centering for Patrick Kane. If he takes out Toews, this series is almost certainly over. If he dominates either Michael Frolik or a returning Dave Bolland, that's as big of a problem, because the Hawks bottom six forwards will not outdo the Canucks', or at least you wouldn't bet on it.
But Kesler, like the rest of the Canucks, has a playoff reputation that needs some overturning.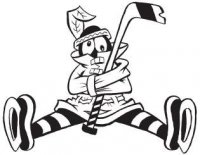 Sam Fels is the proprietor of The Committed Indian, an unofficial program for the Blackhawks. You may have seen him hocking the magazine outside the United Center at Gate 3. The program is also available for purchase online. Fels is a lifelong 'Hawks fan and he also writes for Second City Hockey .