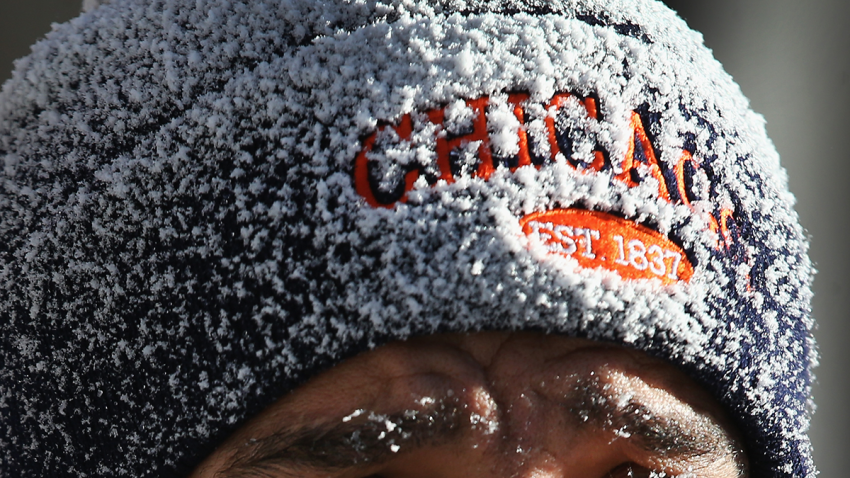 The rivalry between the Chicago Bears and Green Bay Packers is one of the most heated in the NFL, but even the fiery tension between the teams is going to have a tough time competing with the frigid air at Soldier Field on Sunday.
Weather forecasts for the game between the two squads put the kick-off temperature right around zero degrees Fahrenheit, and if that number is on the thermometer when the game starts, it will mark the all-time coldest game at Soldier Field.
The current record is also held by a game against the Packers, with the Dec. 2008 game between the teams checking in at a balmy 2 degrees.
To prepare for the game, the Bears practiced outside in freezing conditions at Halas Hall on Thursday, where the temperature reached 1 degree Fahrenheit during practice. Numerous players have already declared that they will be playing without sleeves on Sunday, but John Fox isn't encouraging his team to be "macho" on the field.
"I've told them that I think macho stuff is all great, but there comes a point where people might question your intelligence," Fox told the media Thursday.
At this point, it doesn't appear that the Bears will set a record for the coldest game in team history. According to NFL.com, that distinction belongs to a game in Dec. 1972 against the Minnesota Vikings, where the mercury dipped to -2 degrees and a blisteringly cold wind chill of -26 at old Metropolitan Stadium.
The coldest game in NFL history remains the legendary "Ice Bowl" game between the Packers and Dallas Cowboys, where the kick-off temperature was -13 and the wind chill reached -48. The coldest wind chill in NFL history came in the 1982 AFC Championship Game between the Cincinnati Bengals and San Diego Chargers, as the air felt like it was a mind-boggling -59 degrees.