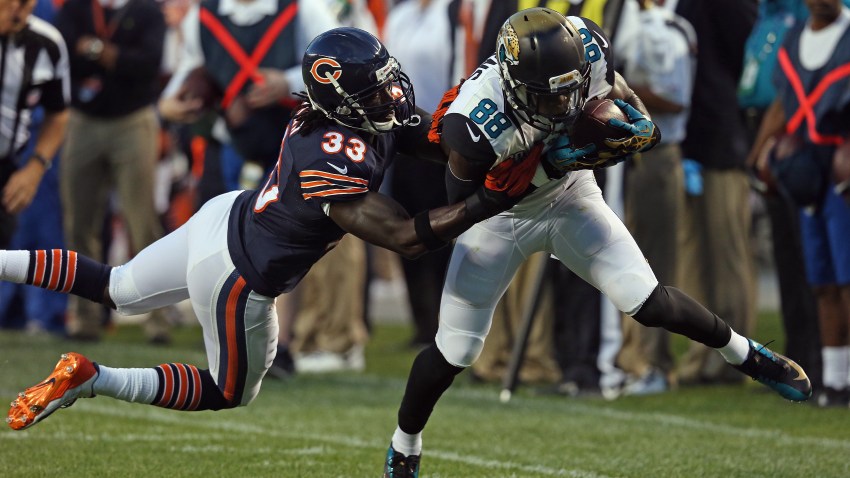 The Chicago Bears got a glimpse into their future over the weekend at the NFL Scouting Combine in Indianapolis, but the team is still facing a lot of questions about their present as they prepare to move forward under John Fox and Ryan Pace.
One of the biggest questions they'll face this offseason is the future status of cornerback Charles Tillman and linebacker Lance Briggs. Two of the biggest holdovers from the previous regime (okay, technically two regimes ago, with Jerry Angelo and Lovie Smith), both players will be unrestricted free agents in March, and while a reunion isn't out of the question, there is significant doubt that they'll be back.
"Anytime you come into an organization and there's been guys like Charles Tillman and Lance Briggs, (and) they've been great Bears," Fox said last week. "They've accomplished a lot, done a lot for our organization and football team, as well as our city. So, going forward, sometimes you just have to evaluate them. I would like to preface it by saying they've been great Bears and they have our ownership's and our organization's deepest respect."
Those words sound like a farewell statement, and Pace didn't make things sound any more positive about a potential contract for either guy.
"We've talked to those guys. They're great Chicago Bears, and again we're going through that (process) just like all the other guys," he said. "It's a slow process but we recognize great Chicago Bears and that's going to be a big decision for us."
When taking Pace and Fox's words into account, as well as Tillman's statements about wanting to compete for a Super Bowl next year and Briggs' long and checkered history in dealing with the organization, it would seem that the team will be moving on from both players, and at this point, it would be the right move for all parties involved to see both guys wearing different uniforms next year.
Yes, both players still can be solid assets for a team, but this process isn't going to be about winning games in 2015. This rebuilding process that Pace has been brought aboard to direct will be about winning games in the future. Guys like Tillman and Briggs aren't going to be around for the long haul, and keeping them around for what would mostly be sentimental reasons is a waste of money and roster spaces that could be used on developing new players.
Both players will undoubtedly get a slew of offers once the free agency window opens, and that's well-deserved on both accounts. Tillman especially could be great for a team looking for that one final cornerback to push their defense over the top (could he end up on New England's radar if they release Darrelle Revis?), and Briggs' on-field ability and toughness could appeal to a younger defense in need of some leadership.