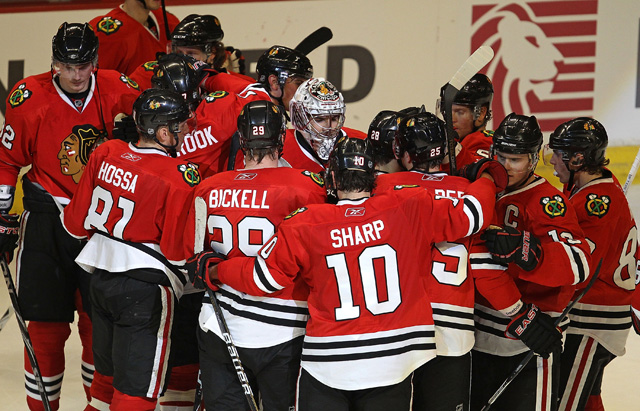 Maybe it's too late in the year to complain how points are accumulated. We have no idea if the shootout win or the point donated to Phoenix will matter in the long run or not.
At this point, the facts are the Hawks have won four straight and taken points in seven of their last eight (garnering 12 of 16 on offer). In the end, that's probably what matters most. And they'd won it without playing all that well.
So there are two ways to look at things. The Hawks will snap into the winning team we've convinced ourselves is within them, and they'll rip off a streak and really turn some heads. Or this is just a brief flash from a team that's been able to Forrest Gump its way to a four-game winning streak and eventually will return to the marshland of mediocrity they've been sludging through all year.

I can't tell you which it is, because at this point I don't know.
What's really enraging about last night's game against the Coyotes is the first period was one of the best periods, if not the best period, of hockey the Hawks played all season. They mauled the Coyotes all over the ice, but mostly in the Phoenix zone as the Yotes couldn't get out of there.
They were content to just chip the puck in behind the standing Coyote d-man at their blue line and outwork them to go get it. They had a 2-0 lead, and it could have been more. If they'd simply come out firing for the first half of the second, they probably would have grabbed a 3-0 or 4-0 lead and been free to take a period off, as is their wont.
But no, that'd be too easy. And to be fair to them, the Hawks didn't drop off a cliff in energy and fire, just enough to let a good team back into it. And they did it with some lazy penalties and a penalty kill that quite frankly is a....(expletive deleted...more expletives deleted....yet more.....OK, done). But you can't blow two-goal leads this time of year, and the Hawks did just that.
To be fair to them, the effort-level was as high in the third as it was in the first. But the Coyotes had no interest in looking for a winning goal, only settling for the point they were given and rolling the dice in the OT and shootout. It's hard to create anything against a team that's set on locking things down, and the Hawks had a few looks.
But it's a win. Another tonight in a more important game and we won't care how this one came about.
And stop sending Sharp out in the shootout. He's pants at it.