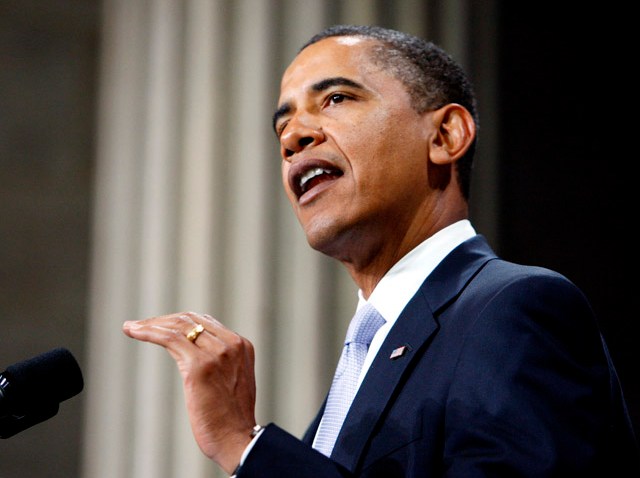 Why won't President Obama go to Copenhagen?
The explanations offered by the White House and the pundits are less than satisfying.
Let's take a look.
1. He's too busy with health care. This explanation fails on several levels.

First, Obama has famously - and even angrily - touted his ability to multitask. During the campaign he felt it unnecessary to come off the trail for a day and go to Washington to deal with the exploding financial crisis. He found time during the auto company bailout negotiations to travel to Nevada for a Harry Reid fundraiser. He always seems to have time for David Letterman. He's on this month's cover of Men's Health touting his workout regime.
Beyond that, Air Force One has a phone. I'm guessing it even has super-duper teleconferencing capabilities. Hell, it's Air Force One, it can probably make Obama appear as a hologram in a Senate cloak room. It's not like he'd be out of touch.
True, there would be more to going to Copenhagen than flying over, giving the pitch and returning home. He'd have to do a certain amount of preparation - and maybe even some schmoozing. But really, doesn't he already know what to say?
2. There is a political risk. This one is really baffling. Some journalistic geniuses and political strategists have advanced the notion that if Obama goes all-in, as it were, and Chicago loses the bid, there will be blowback. America's standing will be diminished because of the president's lack of influence. And the American public will like Obama less for going to Copenhagen and losing.

Huh? World leaders will not judge Obama on whether he wins the Olympics. North Korea will not resume an aggressive posture because the IOC chooses Rio. Iran will not test a nuclear missile thinking that Obama has shown weakness. Pure lunacy. And the American public - to the extent that it cares - would hardly punish Obama at the polls in three years because he couldn't land the Games for his Chicago friends.
True, an advisor like David Axelrod could see how a failed attempt would just give commentators another checkmark in the loss column when they do their traditional one-year reviews of Obama's job performance. But please. And where is the Obama who so confidently proclaimed "I'm LeBron! I can do this!" before the then-state senator gave his speech at the 2004 Democratic National Convention?
3. Michelle is the best representative we have to win the Games. Nobody believes this. You lie, Mr. President.
4. Obama doesn't want to "own" the Olympics and become responsible for all the corruption that would surely follow a Chicago Games. This theory is behind the Reader's Ben Joravsky advice that the president stay home. The reasoning is that if Obama personally lands the Olympics, he'll have to answer for the inevitable cost overruns and contract scandals that would follow. (Could there be a venture this big in Chicago without indictments? Someone will go to jail, probably not alone.)
But Obama already owns the Olympics. And he's already joined at the hip with Daley. After all, those are all Daley's people in the White House.
Sure, he might be putting himself at arm's length from the Games should they land in Chicago, but he's also at-risk by not going: He's now set up as the scapegoat if Chicago does not win the Games. For the better part of a year, the message that's been hammered into us is that Obama is the X Factor. Now he has to hope that's not true.
For complete coverage of Chicago's Olympic Bid click here.
Steve Rhodes is the proprietor of The Beachwood Reporter, a Chicago-centric news and culture review.
Copyright FREEL - NBC Local Media