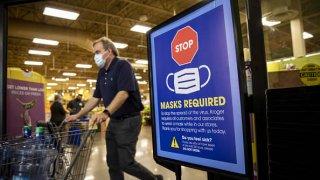 Oak Park will require all individuals over the age of 2, regardless of vaccination status, to wear a mask in public indoor spaces starting Friday, the village announced.
"The Village has experienced a 750% increase in COVID-19 cases in July 2021 as compared to June 2021. Therefore, I have determined that additional mitigation measures are necessary under Phase 5 to protect the public health pursuant to my authority," said Oak Park Public Health Director, Dr. Theresa Chapple-McGruder.
The new requirement applies to all businesses, multi-family residential buildings, health care settings, nursing homes, long-term care facilities, shelters, congregate settings, government buildings and on all forms of public transportation, including in transportation stations and hubs, the village said.
Masks were recommended outdoors if individuals are unable to maintain at least a six-foot distance from others not from the same household.
Oak Park currently identifies as an area of substantial transmission of COVID-19. The village had 83 confirmed cases of COVID-19 in July, compared to 11 in June.
According to Oak Park officials, about 58% of its residents have received at least one dose of a two-dose vaccine. 
Many business owners and managers in Oak Park put up new signs reminding customers to mask up before entering, including Q-BBW restaurant manager Nick Coligan.
"Everybody as far as the workers here are all masked up and following the proper protocols," said Coligan.
He, like many others in Oak Park, said he will comply with the order to protect themselves and their community.
"It's unfortunate that it had to go back," he said. "I feel like if vaccination rates were higher within Oak Park and there wasn't a rise in cases we've seen recently that we wouldn't have to take the step backward."
Village officials said people who choose not to comply could face a misdemeanor charge of reckless conduct. Businesses could also get their license suspended or face a possible shutdown.