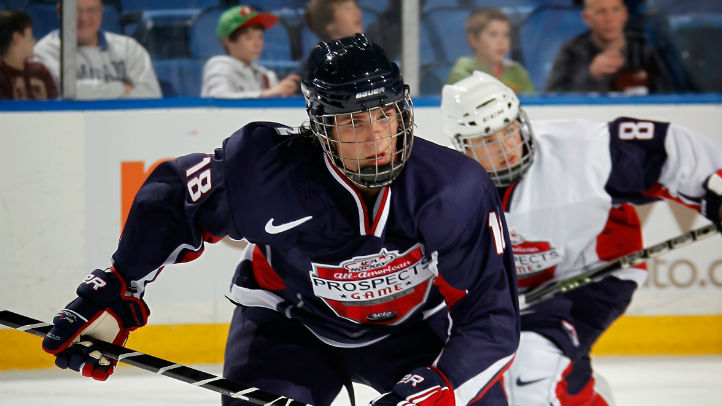 With the Chicago Blackhawks saying goodbye to a couple of players from their 2013 Stanley Cup championship winning roster on Sunday, the players they added to the fold through the NHL Entry Draft may have unfortunately escaped the focus of Hawks fans.
With that in mind, we wanted to bring to you a brief recap of what the Hawks did at the Draft and introduce you to the newest players who hope to one day don the Indian head sweater.
Round One:
Ryan Hartman, Right Wing
Born: 9/20/1994, West Dundee, IL
2012-13 Stats: 23 G, 37 A, 56 GP
The Skinny:
Hartman is projected by most scouts to be a second or third line winger if he makes it to the NHL, both because of his deft scoring touch but also because of his gritty physical play. Here's what Shawn Reznik of The Hockey Writers had to say about Hartman:
"Game in and game out, he plays much bigger than his size indicates. Standing at 5'11", Hartman plays like a power forward. His all-around game stands out from the competition and he plays a full 200 feet. His skating is adept, as is his hockey smarts and vision. The Illinois native doesn't possess the hardest shot, but he uses his accuracy and hard work in front of the net, score goals, and create chances."
Here is a video of Hartman scoring a slick goal as a member of Team USA in a game at Johnny's IceHouse in Chicago:
Round Two:
Carl Dahlstrom, Defenseman
Born: 1/28/1995, Sweden
2012-13 Stats: 5 G, 9 A, 37 GP
The Skinny:
The Hockey News described Dahlstrom as a big blueliner who plays a consistent game and plays with an edge. His offensive numbers aren't the greatest, but he is capable of moving the puck and could very well end up being a second or third pairing defenseman at his top potential.
Round Three:
John Hayden, Center
Born: 2/14/1995, Chicago
2012-13 Stats: 11 G, 9 A, 24 GP
The Skinny:
The Hawks seemed to load up on gritty two-way forwards in this draft, and Hayden definitely fits that bill. His favorite players in the NHL are Philadelphia's Wayne Simmonds and Boston's Milan Lucic, and the mean streak those two show in their games are definitely a component of Hayden's too.
Hayden is also an intelligent young man as well, as he will attend Yale University in the fall.
Here is a video of Hayden meeting the media after his selection:
Round Four:
Robin Norell, Defenseman
Born: 2/18/1995, Sweden
2012-13 Stats: 10 G, 7 A, 30 GP
The Skinny:
In his first three seasons with Djurgarden of the Swedish Junior League, Norell didn't show much scoring punch, only scoring three goals in 74 games, but his numbers skyrocketed in that category this season. At only 5-foot-10, Norell is going to need to continue his development offensively to make up for his lack of size, because if he doesn't, it's unlikely that he'll find a spot on the Hawks' roster.
Tyler Motte, Center
Born: 3/10/1995, Birthplace N/A
2012-13 Stats: 21 G, 16 A, 57 GP
The Skinny:
The Hawks went for help up the middle once again with their second selection of the fourth round, and they plucked a scorer who seems like an ideal fit as a second or third line guy as a ceiling.
He has scored 25 goals and 21 goals in his two seasons in the USHL, and he cut down his penalty minutes dramatically in his second year in that league, going from 62 last season to 40 this year.
Here is a video of Motte meeting the media after his selection:
Round Five:
Luke Johnson, Center
Born: 9/19/1994, Grand Forks, ND
2012-13 Stats: 19 G, 27 A, 57 GP
The Skinny:
Johnson's stats took a bit of a hit in his second year with Lincoln of the USHL, with his assist total dropping from 35 to 27. His discipline did improve though, as he only had 32 penalty minutes this season in comparison to 52 last year. He isn't the biggest player on the ice, but he is a good skater with a quick shot.
Round Six:
Anthony Louis, Center
Born: 2/10/1995, Birthplace N/A
2012-13 Stats: 18 G, 25 A, 53 GP
The Skinny:
The Blackhawks once again went to the USHL and drafted yet another center with decent offensive upside and not much size. At only 5-foot-7, Louis isn't going to intimidate anyone on the ice, but with a nearly point per game average in his two years in the league, he definitely plays a bigger game than his size would indicate.
Round Seven:
Robin Press, Defenseman
Born: 12/21/1994, Uppsala, Sweden
2012-13 Stats: 2 G, 2 A, 41 GP
The Skinny:
The 2013 Mr. Irrelevant pick (the last player chosen in the draft) is the third Swedish defenseman that the Hawks drafted, and it's clear they drafted him more for his defensive prowess than his offensive ability. In under-18 play, he's been a solid player, with 15 goals in 59 games for Almtuna U18, but when he's gone to the more competitive Sweden-2 league, he has struggled, with only two goals and three assists in 50 games.