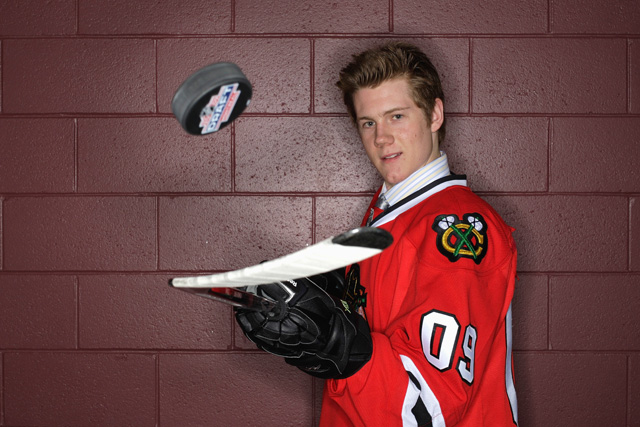 There is something surreal about Blackhawks Prospects Camp.
It always takes place in the middle of July. So on this morning, right after a scrumptious summer storm, I headed down to the West Side to watch some kids play hockey in a heavily air-conditioned building. I never did things the conventional way anyway.
Before talking about the individual efforts I saw today, there is one aspect of Prospects Camp I do love. Because it takes place at Johnny's, you get to watch the play from a perspective you'll never get at the United Center.
Whether you stay on the 1st floor at ice level through the glass or head up to the bleachers which hang right above the glass, this is closer than you'll ever be. Because even if you sit this close at the UC, the cavernous nature of the building makes it feel farther away. Here you're right up in it, and you're reminded how loud the game is. The skates on the ice, the puck crashing into sticks, the crack of a puck off the glass, the crunch of bodies against the boards. You lose that in the big arena, though you get it through the mikes of the PA.
But here it's making your ears ring, and it's wonderful. Anyway:
None of these kids will make a splash with the Hawks this season, and it's unlikely that any of them will even make an appearance. The only one who might have any chance whatsoever is Dylan Olsen, who was clearly the most composed of the players out there today. As he should be, he already has half a pro season under his belt. But even that would take a pretty heavy injury crisis on the blue line, and even then those who have logged a full season in Rockford, such as Ryan Stanton or Brian Connelly, would be first call.
The scrimmage was a bit jumbled, as you'd expect wtih guys who have only skated together for maybe a day or two. But it's an odd combination of players trying to be noticed and others terrified of being noticed by making a mistake. It all makes for a fair amount of tension out there, with some sticks being gripped awfully tight.
Jimmy Hayes is indeed a house, but probably needs to be slightly quicker and get a little less fancy with his stick-handling.
Philip Danault is a touch on the small side, but never shirked his backchecking duties, which can't be said of everyone. Always in the right spot, which tells you something of the reason why he's always captain on whatever team he's on.
Brandon Saad has a pretty active 1st period with a goal and assist, but faded after that.
Mark McNeill has a long way to go, no matter what they tell you.
Michael Paliotta plays with snarl, which is saying something for this kind of outing.
Maybe I'm missing the point, but the players I noticed most were the non-drafted invitees, who I guess would always be the ones working hardest. Terry Broadhurst always seemed to be creating something, and the smallest guy on the ice, Stevie Moses, was always moving his feat and scored a nifty tip for the White Team's 3rd goal. I'll probably never hear of these guys again, and who knows if they'll ever even crack the AHL. And maybe you had to notice their graft because they simply don't have enough talent to make the game look easier. But for one morning, I couldn't stop noticing them.