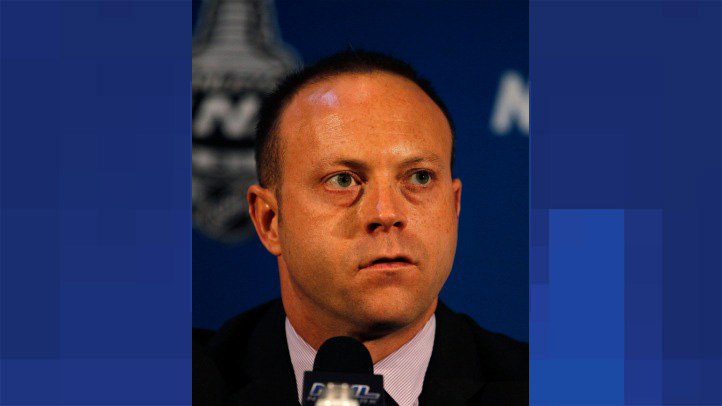 So all it takes is one good summer, eh? I guess baseball players have taught us that over the past decade or so.
The Hawks extended Stan Bowman's contract to the spring of 2016, even though he had another year after this one. It isn't jumping the gun too much, as organizations tend to not like general managers or coaches to head into the last year of their deal. The feeling is that when coaching or managing for a contract you tend to panic and not see the long term. This is especially bad for general managers who should be planning years ahead of time.
Obviously, the Hawks brass were looking for any excuse to do this, because Stan's been their boy since they took over. Dale Tallon was forced out the door specifically so they could give Stan the job. Might have something to do with hiring Stan's dad, Scotty, as a consultant. But I don't want to get into conspiracies or anything, i spent far too much time doing so a couple years ago.
The evidence we have on Stan is scarce, though. When Stan took over before the Championship season, the draft and free agency were already handled by Tallon. Bowman made one trade that year, sending Cam Barker to Minnesota for Nick Leddy and Kim Johnsson. Clearly, the Hawks didn't give anything up in this trade, as Barker was pretty much an overturned traffic cone with less emotion in St. Paul. What the Hawks got back still needs to be answered. Johnsson was concussed and lost for the year soon after arriving. Despite their claims and insistence on pushing him into the lineup, we still don't know what the Hawks have in Leddy. But it looks promising.
After the Cup win, clearly Stan had his hands tied. He had to shed salary and didn't have a lot to work with to bring in players. But there's still the John Scott and Nick Boynton signings, which if they'd been avoided may have kept Andrew Ladd in town. Or Sean O'Donnel a year eariler could have been signed. Either way, Bowman was up against it.
During the season, he made a couple of encouraging trades. Michael Frolik was brought in for the busted straight that was Jack Skille, and Frolik looks to be a part of the team for years to come. Chris Campoli was acquired for a pick, and though he's not here now he was a useful part for the team when he was.
This summer, Bowman had his best stretch. Though the Hawks will be affected on the ice, shedding Brian Campbell's contract freed so much money. The trade of Troy Brouwer was curious, but the signing of Andrew Brunette cures some of those ills, and there are some kids in the pipe line to help out with the rest. The defense was beefed up with Steve Montador, Sami Lepisto, and O'Donnell.
So what we have with Bowman is one good summer when he had the ability to shape the team as he wants. Apparently, that's enough for Hawks management. We can be sure that Bowman isn't a bumbling idiot. Genius? Not there yet. But we'll now have more time to find out.