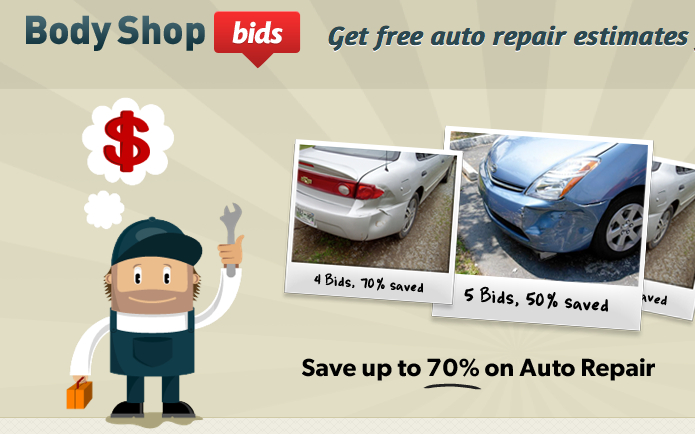 There are few bigger buzzkills than dealing with bruised automobiles. When afflicted with a sideswipe or God forbid something more severe, most of us want to return our rides back to normal as quickly and cheaply as possible.
Enter
Body Shop Bids
, a Chicago-based startup that sources competitive auto repair bids from nearly 300 local shops. While the service has a web component, the more logical use for most users is via the company's free
iPhone
and
Android
applications. If your car is side-swiped while parked in Wrigleyville, for instance, the apps allow you to photograph the damage and receive bids from area body shops within 24 hours.
This is pretty slick. Or some believe a who's who of Chicago-based venture-capital investors. Late last year, Body Shop Bids raised $1 million in a round led by OCA Ventures. Other investors participating in the round include New World Ventures and Lightbank. Last June, Body Shop Bids was seeded with $250,000 in financing by Lightbank, the venture capital firm run by Groupon co-founders Eric Lefkofsky and Brad Keywell.
Proceeds from the investment round will be used in part to fuel expansion outside of Chicago.
"We recognized an opportunity in Chicago, and it's an opportunity that exists in cities around the U.S.," said Brad Weisberg, founder and CEO of Body Shop Bids, in a release. "The feedback from consumers and body-shop owners alike has been incredible, and we are excited to build on our initial success."
Serial entrepreneur Weisberg first came up with the idea for the service seven years ago after finding his parked car dented in a Red Lobster parking lot. After driving around aimlessly getting quotes that varied from $300 to $1,200 for the same amount of work, he concluded that there had to be another way. He founded Body Shop Bids in 2010.
Brad Spirrison is the Managing Editor of Appolicious.com and AndroidApps.com, where consumers find mobile apps they'll love. The Appolicious family of sites (which also includes video review service AppVee.com) and mobile apps (for the iPhone and Android devices) are discovery tools to help consumers browse, search and share recommendations for the hundreds of thousands of apps available on the iOS and Android platforms. Spirrison, a longtime Chicago-based media and technology commentator, lives in Lakeview with his wife and young son.