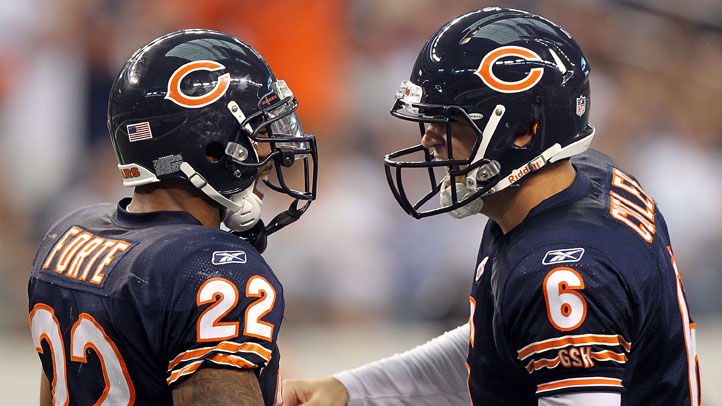 Chicago Bears quarterback Jay Cutler is often the target of scrutiny and criticism among observers and even the team's fans, but one high-profile former teammate is standing up for him in a new interview.
That former teammate is Matt Forte, who will suit up for the New York Jets in the coming season after leaving the Bears in free agency. In an interview with Pro Football Weekly, the running back describes why he "feels bad" for Cutler, who always seems to be in the crosshairs of those looking for reasons why the Bears haven't made the playoffs much in recent memory.
"I feel bad for him because the cameras are constantly on him," Forte said. "They show his body language, and I mean, if you look on the sideline and something goes bad, everybody's body language is that way. He's the quarterback. He's the one in the spotlight."
Forte, who was drafted by the Bears in 2008, was with the team throughout Cutler's tenure in the Windy City. He's seen the highs and lows of a quarterback who signed what was then the NFL's richest contract in 2013, and he certainly is one that will argue that Cutler's treatment at the hands of media and fans has been unfair.
"That's what they're gonna write about no matter what he says," he said. "I've seen him grow from when he came in, it was my second year, all the way til now. He has kids, family, married – all that stuff, so he's grown a lot. And his personality has changed a lot over the years."