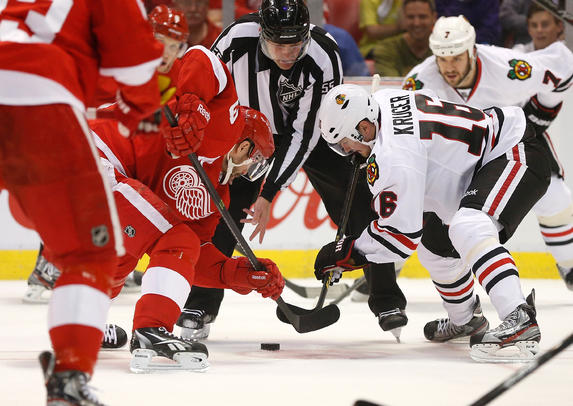 One of the Chicago Blackhawks' biggest priorities going into the off-season was getting a new contract done with center Marcus Kruger, and the team did just that on Friday, signing him to a new two-year agreement, per various reports.
General Manager Stan Bowman, who said earlier on Friday that the team was looking to finish its NHL roster off by re-signing Kruger, did just that with the new deal. The center, who played mostly fourth line minutes with the team this season, had four goals and nine assists during the regular season and added three more goals during the team's Stanley Cup run.
The questions surrounding Kruger's future with the Blackhawks will not be answered just because of this new contract, however. The team has not decided on a number two center for next season, and Kruger should figure to be in the mix along with several other players, including Brandon Pirri, Andrew Shaw, Michal Handzus, and even Brandon Saad. The Hawks have long considered Kruger to be a potential top-six forward, and will likely be looking for a strong showing out of him at training camp in September.
Kruger will also have to get used to having a new winger alongside him on the penalty killing unit as well, with Michael Frolik heading to Winnipeg in a draft day trade. Players like Shaw and Saad will likely be given cracks at that spot, with others like Ben Smith and Jimmy Hayes potentially vying for the role.
At any rate, Kruger will have a couple of years to get his role on the team figured out, and now Bowman can continue to load up the team's roster in Rockford with the final piece to the NHL roster now officially being in place.
We'll have more details as they become available.