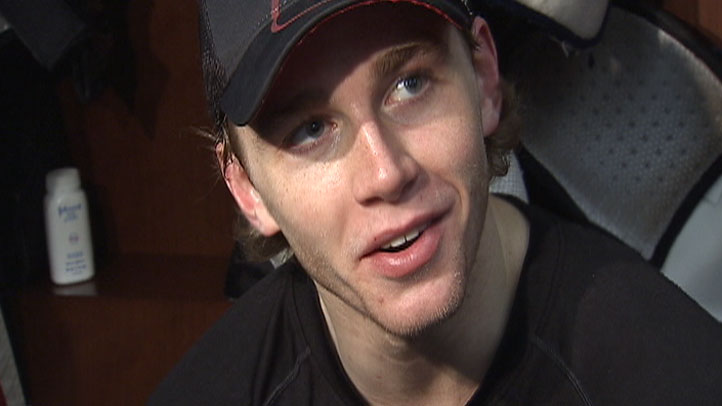 Perhaps no one symbolized the muted and frustrating efforts of the Hawks as a whole more than Patrick Kane.

While the overall numbers look good, the eye test of a whole season will show a player who at times was hurt, at times uninterested, whose priorities at times were misaligned and overall was just not enough. That applies to more than just Kaner, but it fits him better than most.
Positives: No one will argue with a 73-point season, especially when he wasn't as healthy this year as he's been in the past. After the Deadspin controversy (more on that in a bit), Kane went man-on-fire, racking up 12 points in nine games in late February through early March. Could still single-handedly break a game open when required, as this is still a transcendent talent of which few players around can match.
Negatives: Sadly too many, and some of the shine of our cocky little Kaner has definitely come off. On the ice, early in the season Kaner was far too content to float around, not do his work defensively (after improving greatly last year in that area), didn't always want to fight for the puck along the boards, and appeared to be huffing and puffing in some 3rd periods. Kaner personified the laissez-faire attitude the Hawks took as a whole to a lot of games in the first half of the year. Sure, the numbers may look the same, but after spending most of the season dominating games last year to the tune of 88 points, Kane merely contributed far too often this year, seeing his total drop to 73. He didn't score a goal in the playoffs, and that can't happen. Kaner was often too quick to opt for a pass when he has a lethal shot, especially on the power play. Kane should always be topping 30 goals. He was a minus player for long stretches this season, only improving because of Jonathan Toews's diligent work in the last half of the year.
And of course, the off-ice stuff. Whether you believe the stories, whether you believe they're any of our business, the sheer volume of buzz and rumblings about Kaner's nocturnal activities has to worry. Especially when you consider a player that showed a lack of conditioning, a lack of motivation and a lack of discipline far too often this season.
Contract Status: Signed for four more years at a hit of $6.1 million.
Keep Him or Ship Him: The nuttiest wing of Hawks fans after the playoffs were calling for a trade of Kane. Though I've been harder on him than most, I think this is just about the most ludicrous idea I've heard. Kane is the most talented Hawk of my lifetime, he's going to score 100 points in this league consistently if he so chooses. He can win games on his own. He's 22. You don't give up on this package. Most of all, Kane is at his best when he's got a chip on his shoulder or has something to prove. After all the barbs he's heard this year, all the controversy and the disappointing end to it, you can expect Kane to come out with flames shooting from his nostrils next year. It's what he chooses to douse those flames with that should have you worried.