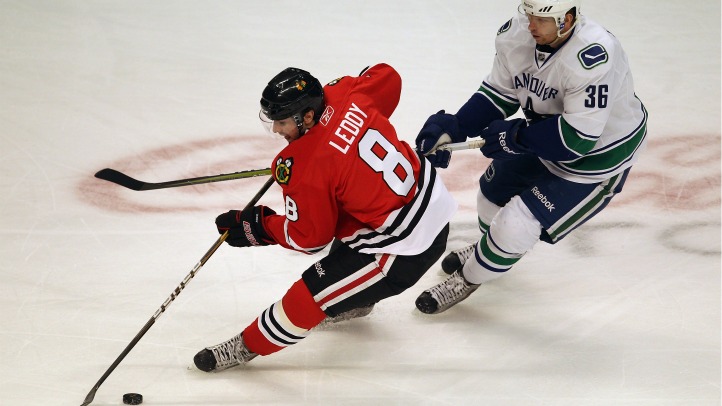 People seem to think I hate Nick Leddy. That couldn't be farther from the truth. I like the kid a lot and am excited to see what he can do in the future.

My angst about his spot in the lineup was never directed at him. It was the people who put him in this spot. And now I worry that this rushing to a level he wasn't ready for may permanently blunt his development.

But Stan Bowman just had to prove what a genius he was by getting this kid, didn't he? Only time will tell.
Positives: Leddy immediatlely showed decent wheels and an ability to get up the ice. He's got a pretty good shot, which he always gets through, and really should use more often. But he often defer to his elders, as a 19-year old is wont to do. Though he was overmatched for most of the season, Leddy didn't play scared and kept coming. So there's that. And toward the end of the series with the Canucks, Leddy did take some big steps forward, asserting himself physically and not backing down from the furious forecheck Vancouver was employing. Also moved forward defensively, breaking up plays and closing the gaps on forwards which he struggled with earlier.
Negatives: Again, it doesn't have anything to do with him per se, but the fact he was counted on so heavily this early in his career at all. Leddy only had 20-30 games outside of college, and he only had one season there as it was. He really should have been skating top minutes in Rockford to learn the pro game there. Because of that limited experience, Leddy was often reduced to barely 10 minutes of icetime while with the big club per game, limiting the experience he could gain and forcing other d-men to skate until their hearts went out for whiskey. Leddy was simply overpowered physically at times, which will happen at that age and size. He had trouble keeping a good gap with oncoming forwards, which allowed shots to get through that he should have been blocking, or passes to open up. Positionally, he could be off. Witness how many breakaways he and Keith gave up together, and also on Burrows's opening goal in Game 7, where Leddy had no idea he was coming. This is all correctable, of course, but it shouldn't have to be done at the NHL level. Or at least not all of it.
Contract Status: Two more years at $900K per season
Keep Him Or Ship Him: Leddy still shows far too much promise to give up on. But considering that the Hawks started his contract clock and the fact that Stan Bowman still hasn't proven he can admit a mistake, Leddy will start the year on the third pairing of the Hawks next year instead of the first pairing in Rockford where he can get the 25 minutes a night he so badly needs. One can only hope that Leddy is the type of kid who can develop at the top level, otherwise the Hawks will have screwed over a very prized prospect. Could be a good one one day, but no one knows if he'll get there now.
Copyright FREEL - NBC Local Media