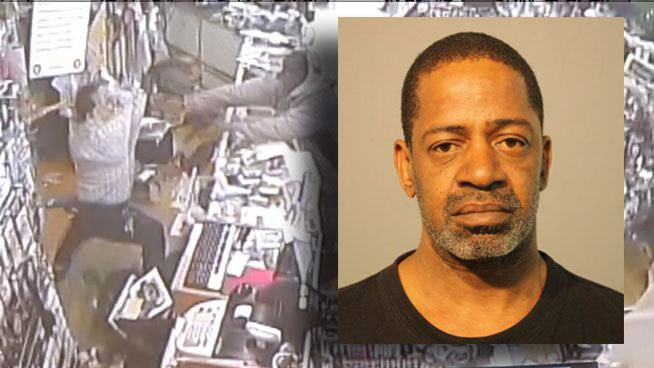 A Minnesota man has been arrested in connection with last week's robbery at a Logan Square gift shop, Chicago police said Wednesday. The clerk used a baseball bat to fend off his attackers.

Keith Owens, 51, faces charges of attempted first degree murder and armed robbery with a firearm.

Store surveillance cameras captured the bold April 9 brawl at Quizhpe's Gifts & Sports, in the 2200 block of North Western Avenue.

Police say Owens, of the 7400 block of North Cedar, in Richfield, Minn., and another man arrested last week, Cornell Mack, held up the store but were met by an aggressive shop owner who fought back with a baseball bat.
That store owner, Luis Quizphe, was wounded by a spray of bullets that also penetrated the walls of a safe and busted the glass in display cases. He was treated for a leg wound and has since been released from the hospital.

Quizphe's brother-in-law, Luis Aucaphizphi, was also in the store and fought back against the robbers using a stool and a fire extinguisher.