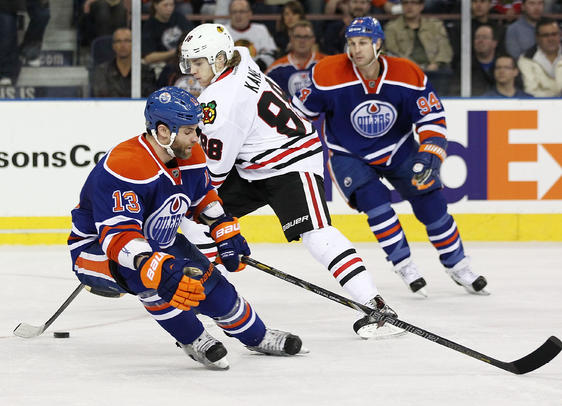 This season, no player on the Chicago Blackhawks has been talked about more at length or received more critical praise for his play than winger Patrick Kane. Whether it was his spin-o-rama goal against the Dallas Stars, or his highlight reel shootout attempts, Kane's on-ice play in this condensed season has earned laudits for both its high skill level, and the more serious mindset that he has brought both on the ice and off.
In Wednesday night's victory over the Edmonton Oilers, it wasn't the goal that Kane scored that drew attention to his increasing maturity. It was actually his lack of bombast and flair that caught the eye.
On a play in the third period, Kane was collecting a puck in the corner of the offensive zone when he met up with Edmonton defenseman Justin Schultz. Kane, as he has done all season, was doing a great job of maintaining possession of the puck, and in a display of frustration, Schultz gave him a nice shot with his gloved hands. Kane, knocked off balance slightly, still managed to pass the puck off to a teammate, but Schultz wasn't done. He then threw a punch that hit Kane right below the visor, and at that point, no one would've blamed Kane if he'd taken a slash at Schultz's chin right then and there.
Instead, Kane straightened out his helmet and skated away. With his team only up by a goal at that point in the hockey game, it would have been a serious lack of discretion on the 24-year old's part had he risen to the bait that Schultz was putting in front of him, and the fact that he didn't retaliate at all is a remarkable thing.
This isn't the only time that Kane has shown a deeper understanding of the notion that he is way more valuable to his team when he is on the ice rather than when he is forced off of it. In a recent game with the Dallas Stars, Kane blew a defensive assignment in horrendous fashion and allowed the Stars to net a goal. Unfazed by his mistake, Kane dissected it on the bench, and a short time later, he found Andrew Shaw for a crucial goal in the Hawks' victory.
This anecdote, provided by Blackhawks historian Bob Verdi, is a great testament to the way Kane has improved his game, but it was Verdi's comparison of Kane to another Blackhawks legend that really sums up nicely what the incident with Schultz illustrated:
"Kane has evolved, as did (Stan) Mikita, who went from a hellion to a Hall of Famer after realizing he could not provide for wife Jill or his wingers from the penalty box."
Fans can gawk all they want at the amazing things that Kane is capable of doing with the puck, but it is the little moments like Wednesday's skirmish that provide the real glimpse into the man, and the hockey player, that Kane is becoming. There is little doubt any more that he is an elite talent, and now he has the brains to back it up.