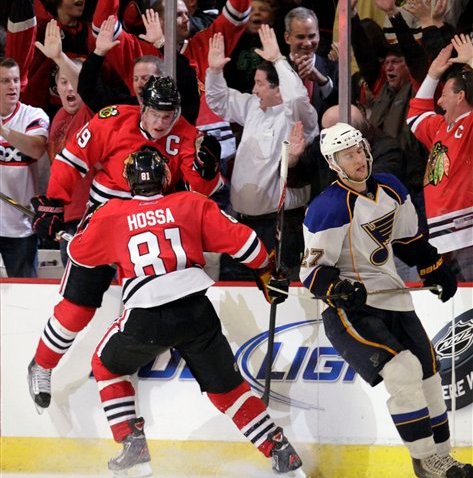 Just some things to get to before it all kicks off this weekend, and we either drown ourselves in booze or ... well, drown ourselves in booze, I guess. Either way, keep the sharp objects away.
-Patrick Sharp had seven shots Wednesday night and a further three blocked. Not bad for someone who couldn't move all that well. He was quoted as saying, "Probably not" when asked if he would have played if this had been game 40 instead of 80. It's a sad statement on the Hawks that they have to risk one of their most valuable players on one leg because they need the win that badly. But hey, they got it.
-St. Louis fans are going to be crying about that Hossa goal for the next few years, and I get it. I've always thought this replay process was a goof. Somehow, it's never passed the smell test that replays go back to Toronto and the ref doesn't get to look at a replay himself. College hockey provides the ref with a screen at the official scorer's table, and I don't know why the NHL doesn't. But a league desperate to increase scoring gets final say on whether something was called a goal on the ice? Doesn't quite hold up, does it? Unless they have no choice, you rarely see goals scratched off. They should at least provide the on-ice official with a monitor for this. It would add credibility.
-Michael Frolik is drawing more and more ire from Hawks fans, and while I get it, I won't call him a disappointment yet. He did lead the team last night with three takeaways. His game is a bit of a headless chicken right now, shooting from wherever and missing some passes and getting worked over on the boards. But he should be viewed as the improvement over Jack Skille that he is, and really nothing more.
-This Marcus Kruger - Healthy Scratch thing is worth watching all summer. I've been poking holes in this supposed plan ever since they announced it. You don't bring a prospect over for seasoning when you're getting prepared for the playoffs. They built him up as NHL ready, and he hasn't proven to be that at all. So what happens next training camp if he thinks he's headed to Rockford and he just goes and signs another contract in Sweden? Who's going to look like an idiot then?
-While Eddie Olczyk was trying to figure out who to blame for the tying goal between Duncan Keith and Nick Leddy, Corey Crawford really should have come out and made the discussion moot. Crow's always been a little tentative when playing the puck, but had he been more decisive there he really could have helped his d-men out. Now you know why the defensemen get a little skitting around the net, because they don't think they're going to get much help. But then again, whenever the puck-playing Marty Turco was in net, they didn't know how to deal with that either.
-Speaking of Eddie O, it must have taken him 20 viewings of the Hossa goal to figure out that he may have kicked it. How hard is this?