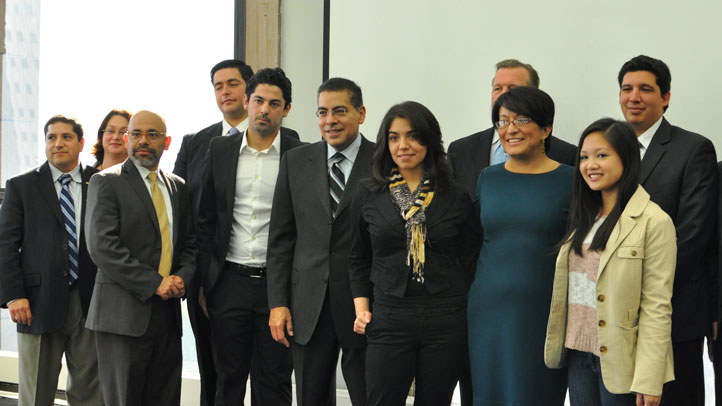 Children of immigrants, including undocumented students looking to attend college, now have an opportunity to apply for privately funded scholarships through the not-for-profit Illinois Dream Fund.
The financial aid opportunity was unveiled Friday morning at the Chicago Cultural Center.
"I think it's great," said Maria Gonzalez, 24, a senior at the Illinois Institute of Technology majoring in Sociology.

Gonzalez is also undocumented, and said school funding is always a source of stress.

"Every semester I'm studying for finals and I'm not even sure if I can afford to come back next semester," she said.
The Fund is connected to the Dream Act signed into law in 2011 which supports immigrant student's access to college. Part of the bill entailed creating the Illinois Dream Commission, a group that would raise money on behalf of the fund.
In February, Governor Pat Quinn appointed the group. The group's chairman, Tanya Cabrera, who is also the associate director of minority student outreach and diversity initiatives at the Illinois Institute of Technology, said they've raised $500,000 to date.
"We hope to raise at least five million. We're offering scholarships to undergraduate students to attend two- or four-year colleges and universities," she said.
The scholarships are open to immigrants and undocumented students who don't qualify for federal financial aid. Cabrera believes they'll receive, at minimum, 5,000 applicants this first application cycle.
Jose Rico, Executive Director of the White House Initiative on Education Excellence for Hispanic Americans, and a Chicagoan who grew up in Little Village, attended the Dream Fund announcement and applauded the initiative.
"It's a great new model," he said. "What's unique about it is that it brings together universities, community organizations and leaders and the city together who are all stakeholders in educating Chicago's young people."
Qualifying students will get anywhere from $2,000 to $6,000 through the dream fund.
Daniel Garcia, 24, a senior at IIT studying material science and engineering with a minor in psychology, said the scholarship provides more than just funds. It provides hope.
"It sends a message that it is possible to go to college and graduate. it combats the notion that if your undocumented you can't accomplish great things," he said.
The Illinois Dream Fund will begin taking applications November 1.