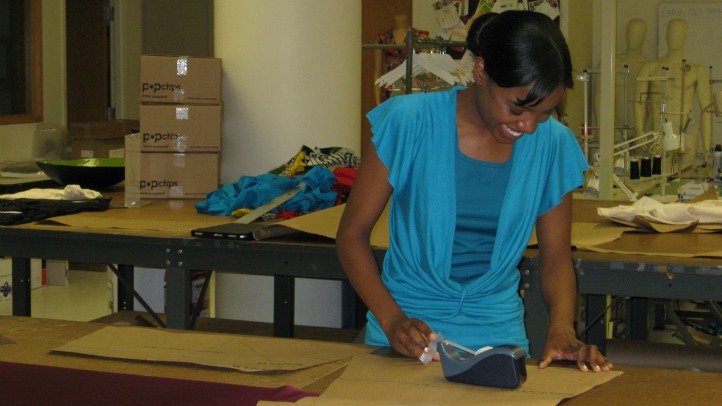 While it may sound cliché, the Chicago Fashion Incubator at Macy's on State Street is magical.

Perhaps it's the mystery of getting past the locked doors to the 11th floor of one of the most historical buildings in Chicago or maybe it's the rush of the Macy's buyers, vendors, event planners and staff working away. For me, it's the distant buzz of sewing machines that signal the creation of something new that evokes the thrill.

So if you're an emerging Chicago-based designer, how can you be a part of this thrill? How do you know that you're ready? How do you get there?

CFI is a yearlong residency program for Chicago-based apparel designers. The application process starts in the fall and the residency begins in March. This year, the application to be considered for one of six 2012 designers-in-residence slots will launch at the end of August.

If you design clothes of any sort, you absolutely should apply. What this program cannot support, though, are jewelry and accessories designers. Our curriculum is focused on designers launching businesses based in apparel.
If you are a designer and are ready to be part of CFI you should:
Be able to demonstrate the highest level of responsibility and dedication to both the program and your business.

Have the financial ability to fund your new businesses and pay the $250 monthly rent.

Be able to work well with others.

Understand it takes hard work to grow your business, and though we provide resources, it's your responsibility to grow your individual company.

Know that CFI is here to help you understand the business of being a fashion designer, not how to design fashion.
If the above describes you, and you're ready to apply, please note that applicants must reside in the Chicago area, be 21 years or older, provide a minimum of three images of your garments, either plan to start or have already started a fashion business in the City of Chicago, submit an application fee of $75, and be able to commit to CFI completely, utilizing all available resources, similar to a full-time job.
Are you ready?
Hand-loomed and sewn in Chicago, fashion designer Lara Miller's work is strongly influenced by the city's architectural and cultural landscape. Aside from her fashion-design business, Lara serves as the Executive Director of the Chicago Fashion Incubator (CFI) at Macy's on State Street.