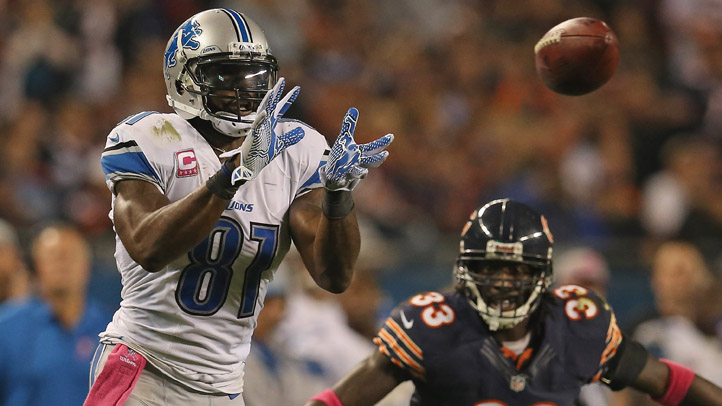 Calvin Johnson has long been a thorn in the side of the Chicago Bears. In 10 games, the Lions receiver has 729 yards and four touchdowns against the Bears. In the Bears' first game with Detroit last season, he had 130 yards.

But on Monday night, he had just three catches for 34 yards. What was the difference?

Brandon Marshall.

This is the point where you think the author of this article must be crazy. She does realize that Brandon Marshall is a wide receiver and therefore not on the field at the same time as Johnson, right?

Right. I do get that.

But think about this. In every one of previous nine games that Johnson played against Bears, Charles Tillman covered him. How was Tillman able to shut down Johnson on Monday night when he was never able to before?

To find that answer, we need to go back to August and to Bears training camp. The Bears' acquisition of Marshall brought the receiving corps to a whole new level. Devin Hester, Earl Bennett and the rest of the wideouts had to work harder to keep pace with perennial Pro Bowler Marshall.

But he didn't just push players on the offensive side.

The defensive backs covering him are challenged in practice because he is known to go full out on every repetition. Tillman saw this, and would look for battles with Marshall to help him step up his game. Tillman would even cut in line when the DBs were going one one one with wideouts so that he could battle against Marshall on as many reps as possible.

Fast forward to Monday night. Like Marshall, Johnson is an oversized wideout who is tough to tackle. But Tillman kept up with every one of Johnson's steps. He forced two fumbles, broke up two passes, and generally just made Johnson's trip to Chicago miserable. It wasn't a stretch for Tillman, because he's been doing it in every practice since Marshall's arrival.
Copyright FREEL - NBC Local Media