Herbie Pulgar says he's feeling a lot more positive about life than he was just a few months ago.

The teen who won a city contest to design Chicago's vehicle city stickers, only to have his winning entry pulled amid concern it contained gang symbolism, now gets to boast that his creation is hanging on a wall of the U.S. Capitol complex.

"To tell you the truth, this is better [than] being on any car because many times that people doubted me and made bad comments and said a lot of bad things, look at where I am now," Pulgar, 15, said Wednesday. "I accomplished a lot of things and I know my mom is happy and I know my grandma's happy of me."

Pulgar traveled to D.C. this week at the request of Rep. Luis Gutierrez. The Chicago Democrat chose Pulgar's design, with its Chicago skyline, the city flag and outstretched hands, to represent the district as part of the 2012 Congressional Art Contest.

"I'm very proud of Herbie because he has such a positive attitude. ... He has such a great heart. He's not resentful. He's happy," said Gutierrez as he walked arm-in-arm with the teen. "Children should be supported, and we're here supporting Herbie today."

Pulgar's artwork sparked controversy when some said they saw Maniac Latin Disciples imagery embedded within. Pulgar has long maintained the design honors Chicago's police officers, firefighters and paramedics.

Now that his art has been honored by the U.S. government, he has little to say to his critics.

"I don't really have nothing to say to them because I'm not the type of person to criticize someone like they did to me, but whoever doubted me, have a good life and I'm happy for them. But I'm also happy for myself and what I accomplished," he said.

Pulgar's visit also included a tour of The White House. Pulgar's poster will hang in the in the hallway Members of Congress and visitors use to access the Capitol from the Cannon House Office Building until next year.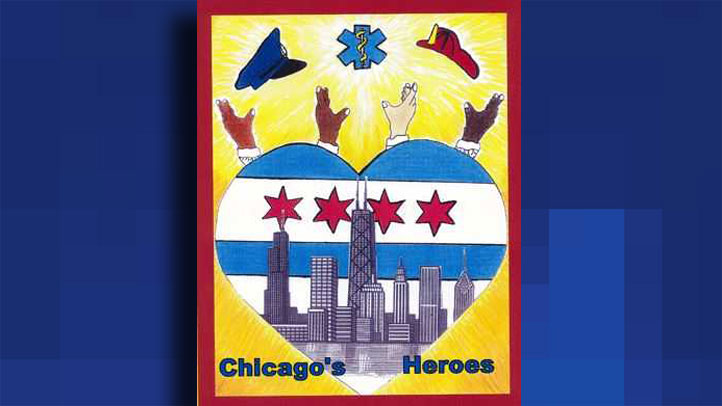 Editor's Note: A version of this post incorrectly identified the name of the street gang for which some said they saw imagery.