Sandra Hernandez tried her best to tell herself that a post on Facebook about a man swept away in a sewer during Wednesday night's storms had nothing to do with her husband.

"I was like, 'Oh my God. I hope it's not him. I hope it's not him," she said through tears. "And then something the whole time was telling my heart, 'It's him. It's him."

Gustavo Briceno, 25, was killed at about 8:30 p.m. when a torrent of rainwater pushed him down a sewer near North Rockwell Street and North Elston Avenue, in Chicago's Avondale neighborhood, as he worked on a project to re-line the pipe.

Authorities said he removed his harness to reach a confined space and was carried away by rushing water. His body was found more than two hours later and about 500 feet away from where he disappeared.

"When we first got here, the contractor had the camera going both ways in the sewer to see if we could find him faster and maybe make this a rescue instead of a recovery, but it didn't turn out," said Chief Michael Fox with Chicago Fire Department Special Operations.

Hernandez said she and her husband had been together for seven years and married for three. They have three children: two daughters and a son, ages 3, 4 and 8 years old.

"Oh, my God, we had so many plans," she said of the man she called a hard worker and a dedicated father. "We were going to grow old together. We were going to be together forever."

But when she went to Facebook she saw people making jokes about the accident. A search on the Internet gave her more information, including the name of the company involved: Kenny Construction.

Briceno worked for the company for several years, Hernandez said. But she can't understand why he'd be working with rain in the forecast.

"Usually when it rains they're off. So I don't know why they had him working," she sobbed. "I think it's kind of sad the way I found out. No one called me."

In a statement, company officials said they are "deeply saddened by the loss."

"Gustavo Briceno, Jr. was a valued member of our team. The cause of the incident is not known at this time. Kenny Construction places the highest value on safety. We are working cooperatively with authorities on the investigation. Our focus right now is on supporting Gustavo's family, his friends and all of our employees who have been affected."

The heavy thunderstorms dumped several inches of rain and hail in a short period of time.

High winds knocked down trees and power lines, leaving an estimated 15,000 customers without power in Chicago. That number was reduced to about 3,400 customers by 5 a.m. Thursday.

Chicago neighborhoods reported anywhere from 1.5-3.5 inches of rain, with some suburban areas averaging around 1.5 inches. Runoff from the excessive rainfall was expected to cause minor flooding, especially along small streams and near low water crossings.

Flooding slowed traffic to a crawl along the Eisenhower Expressway, with standing water also making it difficult to get through the Circle Exchange on the Kennedy Expressway.

Strong winds blew over a portion of a Union-Pacific freight train, blowing seven cars onto their side at Kedzie Avenue at about 8:30 p.m.

The derailment happened on a branch line away from the Metra tracks and briefly halted nearby trains.

As of 8:45 p.m., O'Hare and Midway reported flight delays of up to 1 hour, with 50 flights canceled at O'Hare.

More scattered rain is possible during the early morning hours Thursday, and late afternoon into the evening.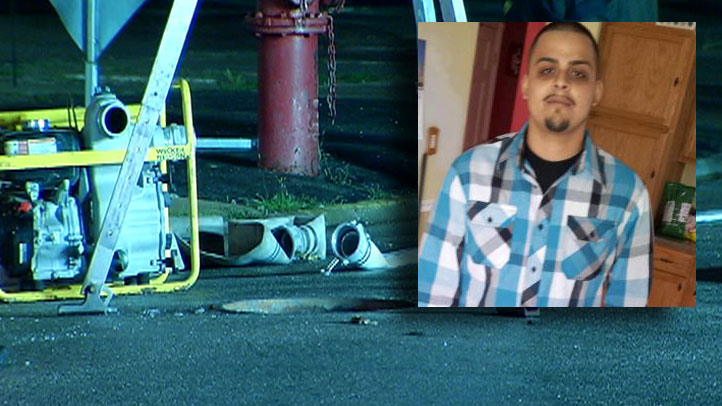 Gustavo Briceno