It wasn't vintage stuff from the Hawks Saturday night, but it didn't have to be.

On the second of back-to-back games and facing the league's worst team, the Hawks used those two downsides of a hill to glide to victory without hitting the gas heavily. It would have looked better had Niklas Hjalmarsson not blown a tire, setting off a scramble that led to the Jackets' second goal. But it's a win, it's six wins in 10 games, and that's a fine rate.
Thoughts:
This was a perfect example of why Viktor Stalberg is so infuriating. His first goal showed a real scorer's instinct, exploiting the open space with his generational speed, waiting out Allen York in goal, and burying it. But you only see it every couple of weeks, and generally against opponents the caliber of Columbus. From there, he dominated the rest of the game, creating chance after chance. And now he'll go away for a couple weeks.

You probably won't ever see four correctly ruled out goals in one game again.

Dave Bolland had been missing for a few games, but he and Michael Frolik once again paired up to be a dynamic force on the third line. The Hawks are just a better team by a significant margin when that happens.

Andrew Brunette hasn't won over too many Hawks fans yet because of his iron feet and the odd play of his line with Jonathan Toews. But he has a role and does some things better than anyone else on the team, and that was demonstrated by Stalberg's second goal. Bruno is so nifty down low and can make those little plays around the net so effortlessly. Only Toews can manage those hands in the phone booth around the opponent net.

Ray Emery was only exposed on the first Columbus goal, when he couldn't go post-to-post quickly enough. if the Hawks can keep teams from doing that when Razor starts, he'll be a capable backup for the 20 starts he'll be required.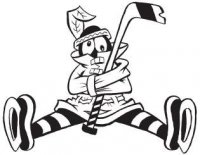 Sam Fels is the proprietor of The Committed Indian, an unofficial program for the Blackhawks. You may have seen him hocking the magazine outside the United Center at Gate 3. The program is also available for purchase online. Fels is a lifelong 'Hawks fan and he also writes for Second City Hockey .