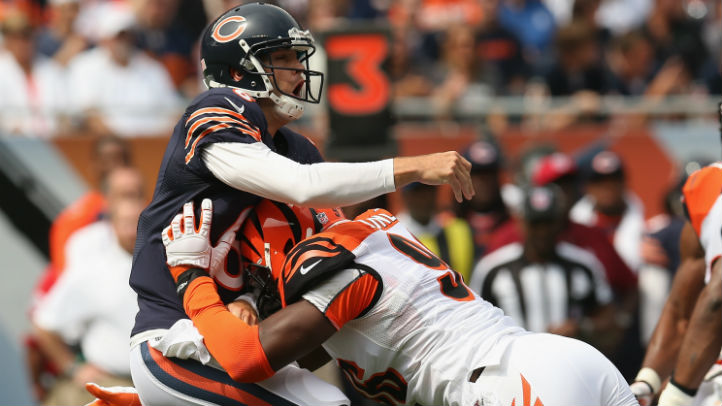 For Jay Cutler and the Chicago Bears, their game Sunday night against the Pittsburgh Steelers is not only an opportunity to run their record to 3-0 on the season, but also a chance for Cutler to show what he's really made of.
A lot has been made during the first two games this season about how Cutler has matured in head coach Marc Trestman's system. His decision-making on two consecutive late game winning drives has been praised, and his statistics do show that he is enjoying some good results in the new offense. He threw for 242 yards and two touchdowns against the Cincinnati Bengals in Week 1, and followed that up with a 292 yard, three touchdown performance against the Minnesota Vikings a week later.
The problem, of course, with making the argument that Cutler has finally turned the corner when it comes to buying into the Bears' offensive system is that we have seen this show before. After all, under Mike Tice last year Cutler came out of the gate on fire with a 333 yard, two touchdown performance in a win against the Indianapolis Colts. The honeymoon didn't last for very long, however, as he followed that up with a 126 yard, four interception performance in an embarrassing loss to the Green Bay Packers.
That isn't the only time that Cutler has gone off the reservation when it comes to a new offensive genius trying to get the most out of him. Mike Martz was hired by the Bears in 2010 with the notion that he could recapture the glory days of his legendary "Greatest Show on Turf" offense that he pioneered with the St. Louis Rams, and in the first week, it looked like he could potentially pull it off, with Cutler throwing for 372 yards and two touchdowns against the Detroit Lions. Once again though, the wheels came off, with Cutler getting injured in Week 5 against the New York Giants because of the constant beating he took in the pocket, and he tuned Martz out so badly that he ended up throwing for four interceptions two weeks later against the Washington Redskins.
Obviously, Cutler has made a habit of tuning out several offensive coordinators during his time with the Bears (his first coordinator Ron Turner was also a victim of that), but could this time truly be different? After all, Trestman does have a history of getting a lot out of his quarterbacks, with Rich Gannon and Jake Plummer both enjoying renaissance seasons at his hands. What may end up being the big difference though in this situation isn't the relationship between Cutler and Trestman itself, but rather the underlying current that could influence just how straight Cutler sails: the river of money.
Cutler will be a free agent at season's end, and if he burns the bridge with yet another offensive guru, it could be a giant red flag to the Bears that they should not bring the veteran quarterback back this season. There are still teams in the league that would obviously covet Cutler's services, but if he doesn't fly right in Chicago, then the team could easily try to move assets and try to move up to take a quarterback in the first round of next year's NFL Draft, and Trestman could develop a young QB of his choosing rather than having to work with a player who has already caused so many others to flame out.
Regardless of what the motivation is to succeed, it will be interesting to see if Cutler will continue to buy into Trestman's system in the face of adversity, which he could get his first dose of Sunday in the unfriendly confines of Heinz Field. If he gets hit around a bit and yet continues to execute the offensive plays as designed, then it could be a sign that this time, finally, Phil Emery and the Bears brass got the formula right.