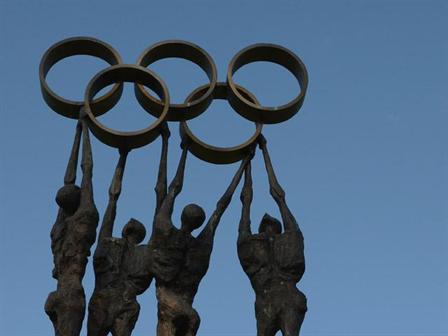 International Olympic Committee members were agonizing Wednesday over how to choose the host of the 2016 Games, with many said to be undecided just two days before the vote.

IOC members settling into their hotel in Copenhagen told The Associated Press that Tokyo, Madrid, Rio de Janeiro and Chicago are all capable of hosting the games and there is no clear favorite.

Samih Moudallal, an IOC member since 1998, said Friday's vote, when cities will be eliminated in successive rounds of secret balloting, will be like choosing between "four sons or your brothers"

"How do you choose between your brothers?" Moudallal told the AP, adding that he has yet to make his choice. "You have to use your mind and your heart together.

"It's a very difficult choice."

And one that Michelle Obama wants to help them with. The U.S. first lady jetted into Copenhagen on Wednesday and was getting almost straight to work on meeting with IOC members before her husband, President Barack Obama, arrives on Friday to give a final push to Chicago's bid.

With the contest so close, such personal VIP appeals could help sway the vote, although IOC members said they would likely not be decisive.

Spain's King Juan Carlos and Brazilian President Luiz Inacio Lula da Silva were also arriving as last-minute lobbying shifted to high gear. Japan's new prime minister, Yukio Hatoyama, was expected to arrive Thursday.

As tension mounted, so did tempers. Despite fresh IOC warnings that the four candidate cities should avoid criticizing their rivals, the Spanish Olympic Committee's vice president, Jose Maria Odriozola, told the national Efe news agency that "Rio is the worst bid."

Contrary to bookmakers' predictions, he said Madrid and Tokyo are the favorites.

IOC votes can be highly unpredictable. Aside from the paramount questions of whether bidding cities' Olympic plans are technically and financially feasible, emotion, sentiment, geography, politics, self-interest and other factors also play a role.

IOC vice president Chiharu Igaya said "many" IOC members are undecided and will choose only after the cities' final presentations on Friday. "The four cities are now neck-to-neck," he told the AP.

"That final presentation, yes, it's going to be crucial," said Willi Kaltschmitt, an IOC member since 1988. He said he believes that half or more of his 105 colleagues remain undecided.

Added British IOC member Craig Reedie: "This is really close. The closer it gets the more people will say, let me think about it. We all want to see the presentations. It's what people see that will count. Decided? No, I haven't actually. I'm getting close."

Last-minute and high-powered lobbying can be important — as then-Prime Minister Tony Blair and his wife, Cherie, proved when London was vying for the 2012 Olympics. Blair traveled to Singapore ahead of the vote and spent two days lobbying IOC members, inviting them to his hotel suite for one-on-one meetings.

Chicago has torn a leaf from Blair's playbook: Obama adviser Valerie Jarrett met with him last week to solicit his advice and get tips on navigating the IOC voting process.

Kaltschmitt, the IOC member from Guatemala, said the presence of Obama, Silva and the other VIPs would reassure IOC members that the cities' bids are fully backed their governments but would be only one of many factors in the IOC members' final decisions. Moudallal, the IOC member from Syria, said Obama or Silva's star power would not be decisive.

"Nobody can affect our decision," he said. "We are IOC members, we are looking out for the Olympic interests not the interests of the United States or Japan."

Ultimately, the biggest choice for the IOC may be deciding what statement it wants to send the world.

Giving the Olympics to South America for the first time would be bold and, Rio argues, even transformational. IOC members acknowledge the appeal of taking the games to unchartered territory. Rio's plans are technically strong, too.

"Most of Latin America would love to see the Games in Brazil," Kaltschmitt said.

But Chicago — seen by some as Rio's biggest challenger — could perhaps prove more lucrative and safe. It is possible that in these precarious times of global recession, IOC members will find the familiarity of the United States — which last held the Olympics in 1996 in Atlanta — to be comforting.

"One of the things that is very important to us now is the economic recession," said Nat Indrapana, an IOC member from Thailand. He noted that "Chicago made a beautiful presentation" to the IOC in June.

Obama's presidency also lends emotional pull to Chicago, his adoptive hometown. Should he win a second term in office, a Chicago Games in 2016 could offer a celebratory and spectacular backdrop for his final year as the first black U.S. president.

The city receiving the fewest votes will be eliminated after each round Friday until one candidate secures a majority. The vote is expected to go the maximum three rounds.

Some members tend to vote out of sympathy in the first round, which can produce some surprises. The key to victory is picking up votes from the cities which go out.
Copyright AP - Associated Press